3* or 5* — Which Hotel is Cleaner and Safer? Honest Answer from Novostar Hotels!
It is really interesting, especially during a global pandemic because everybody remembers that we have recently been cautious before touching door handles in public places or suspicious about spoons and forks in cafes and, in general, we have tried to protect ourselves from viruses surrounding us everywhere in every possible way.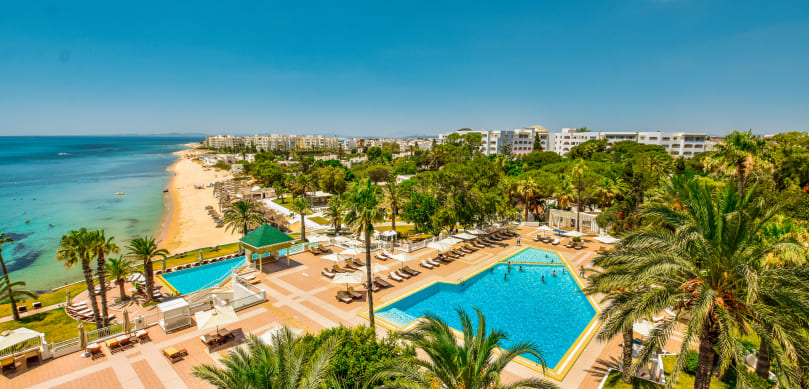 However, unfortunately, even now we cannot say that the era of COVID-19 has completely ended, so the conversation about cleanliness is still relevant. We have asked Margarita Baymatova, the head of the quality department of our hotel chain, to tell us whether it is possible to feel safe while staying at a hotel, as well as what trainings are held for Novostar Hotels staff due to the current epidemiological situation.
The first question is about coronavirus. Sometimes you can see statements in discussions at Internet forums, saying that how you can go to any hotel if you don't know who have sneezed in your room before you? And that in order not to get ill, it's better to stay at home. Are these fears justified?
Absolutely. But only if you're going to stay in some hotel. It is important to understand exactly where you are travelling and what is being done there so that you can spend your holiday without a risk to health.
At Novostar, from the very beginning of the pandemic, we follow the recommendations of the sanitary protocol and carefully clean the rooms before checking-in new guests. Even room ventilation is done not just anyhow but in accordance with all sanitary and hygienic regulations, so you don't have to worry about the fact that «someone has already sneezed in the room». According to the protocol of 2020, at least 4 hours had to be allocated for the ventilation procedure, now the time has been reduced to 2 hours. Other rooms and public places are also ventilated regularly.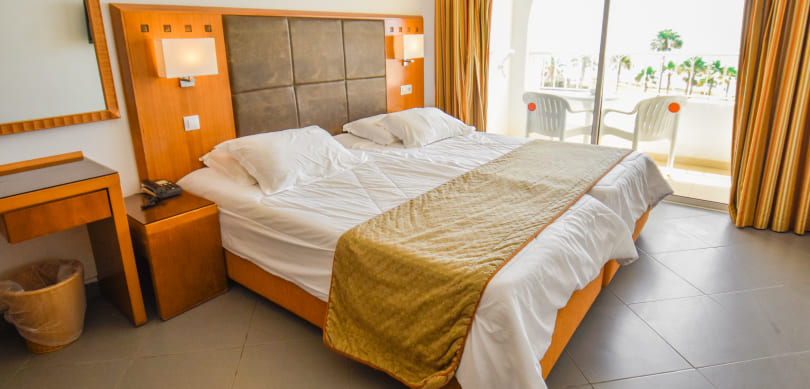 What about visiting restaurants in hotels? Are there any rules applied, too?
Yes, there are, and not just some rules. For example, according to the original sanitary protocol, self-service was prohibited, dishes were served to restaurant visitors only by waiters. Constant disinfection was carried out – we did not forget about anything, even door handles and the backs of chairs were cleaned, not to mention cutlery used by tourists… Salt and pepper shakers – everything was under total control. Moreover, both in restaurants and on the territory of our hotels, guests can use sanitizers at any time.
Are the sanitary rules still quite strict?
Yes, but in the latest protocol updates, some concessions are stated. For example, it is now allowed not to measure guests' body temperature.
There are some other changes and we have discussed them in detail during a training that has recently been organized by Novostar Hotels for employees of the quality department and hygienists of our hotels. The training has been conducted by the Agency for Professional Training in Tourism, accredited by the National Office of the Tunisian Tourism (ONTT). The training took place in the congress center of the Club Novostar Sol Azur Beach Congress 4* hotel and lasted for four days, three of which were devoted to hygiene issues. And this is not surprising because the sanitary protocol specifies about 250 points necessary for compliance, ranging from disinfection of common areas to technical areas of hotels.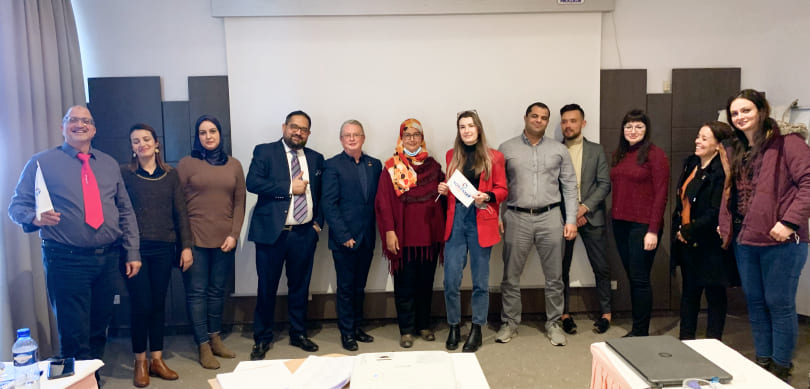 250 points? It is an impressive list… Novostar hotels should have special people who walk around hotels with cotton swabs and check everything, otherwise you won't be able to maintain total cleanliness!
Yes, we certainly have special people. They are hygienists who, however, do not use cotton swabs, but really control everything. For example, water temperature for laundry, which should be at least 71°C. Or the one for dishwashing, which should not be lower than 80°C. It is the temperature that all kinds of viruses and bacteria especially dislike.
By the way, our hygienists pay special attention to food safety issues. Putting a thermometer in a salad on the buffet is a mandatory procedure for us, otherwise it is impossible to guarantee the freshness of vegetables which we serve to our guests. The storage temperatures of meat, fish and, in fact, everything that is intended for serving are controlled. In Tunisia, a country with a hot climate, this is especially important. Hygienists also monitor the cleanliness of food items, for example, we rinse strawberries in water with a small amount of chlorine-containing products. But there is no unpleasant taste after such treatment as after a chlorine "shower", strawberries «have a bath» with fresh water.
What else such specialists are responsible for?
They are the specialists of a fairly broad profile. And, while on the subject of kitchen, hygienists are responsible not only for cleanliness, but also for the quality of food products.
And it all starts with the selection of suppliers, who are checked for the availability of all the necessary certificates confirming the safety of the offered goods. If the certificates are verified, transportation and other mandatory rules are followed, we start evaluating the taste qualities of what we buy for Novostar restaurants. It sounds a bit too officially but actually it is a home-like procedure: our chefs cook something special from the presented samples, we put it on the buffet, and the choice is up to the guests.
If all the dishes are eaten and our guests are happy, it means that the food products are good and we can buy them. It is a simple but illustrative method.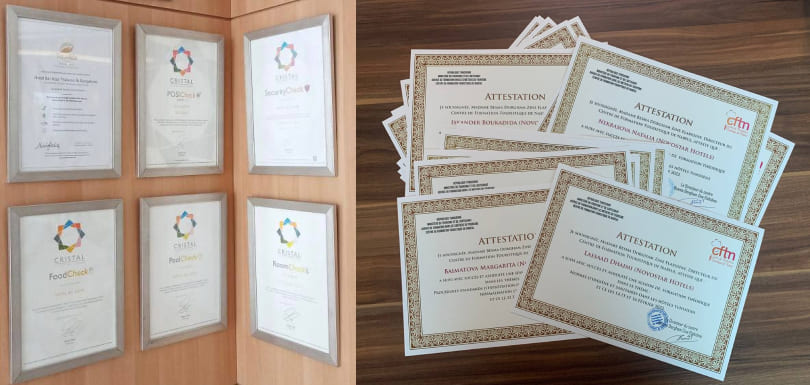 And returning to the subject of sanitation and hygiene, where should a tourist, worrying about the fact that "somebody has already sneezed in the room before him/ her", travel to? What should the tourist focus on when choosing — hotel certificates, its category?
We also talked about the certification and classification of hotels at the training at Club Novostar Sol Azur Beach Congress 4* – the last, fourth day of the event was dedicated to it. We discussed the latest trends in hotel equipment, modern views on environmental issues and, of course, safety in its broadest sense.
I am pleased to note that Novostar Hotels can boast certificates, for example, from Intertek Cristal, a leading international company in the field of expert assessment of the quality of services provided in tourism, travel and hotel businesses.
Cristal employees literally look under the microscope at everything that makes up the life of hotels. For example, to issue a RoomCheck certificate, the efficiency of room cleaning is scrupulously evaluated, and a PoolCheck certificate is issued only to those hotels, where everything has been done to eliminate the risk of getting an injury, drowning, suffering due to the presence of harmful chemicals in water or getting infected in an aqua zone. There is also a special certificate confirming that the hotel is ready to resist COVID-19.
And what about the category of a hotel? Where is it cleaner and safer – in a 3* or 5* hotel?
All Novostar Hotels have successfully passed the most difficult hospitality exams. Therefore, to the question of a tourist who is afraid of catching an infection, I can reply that you can come to the hotel of any category and do not worry about your safety.
The level of comfort and accommodation may be different… But the approach to cleanliness will be the same everywhere — and it does not matter which hotel it is, 3* or 5*. We care about the safety of all our guests!