Ramadan: Let's Talk about Love and Much More…
«They're like aliens! Getting married to a Muslim is a nightmare!» Sometimes you can see such comments in social media. But is it really true? Are such statements justified?
Now, during the holy month of Ramadan, we have decided to talk about life values, love and much more with members of a very interesting family from Tunisia.
Father and son, Naceur and Alexander Boukadida. Both are Muslims. Mother, Irina Boukadida, is a woman of a European upbringing, a Christian by religion.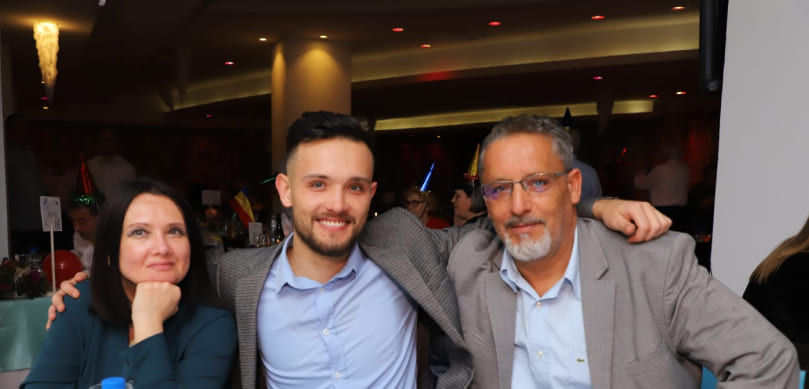 The first question is to the older family members. How did you meet?
Naceur: I was born and raised in Africa, in Tunisia. Irina is a typical European woman. But we both studied at the Voronezh State Pedagogical University, where we met. Chance played a major role in it. When I was young, I was fond of football, but I broke my leg, so the proverb is relevant here: «There would be no happiness, but the misfortune helped us.» I had to forget about sports, I was sent to study abroad on the state programme of international studies – and I met Irina.
Irina: Yes, we were united by the place where we studied. However, then we made our careers in different fields. Naceur is a professor, he has been teaching Russian as a foreign language at the Tunisian State Lyceum for twenty years. I've been working in tourism for two decades, fifteen of them in Carthage Group and I've been holding management positions in this company for twelve years.
How did your families react to the fact that you belong to different religions?
Naceur: My parents reacted positively to my decision to marry a foreign woman of a different faith. For them, first of all, it was important what kind of person she was – but my Irina just can't help but to be liked. She is well–mannered and this is expressed both in a respectful manner of communicating with people, and in the way she dresses. Tunisia is not a radical Muslim country, we are tolerant for short skirts here, but my family like that Irina prefers classic style in clothes, looks decent and at the same time she is a real beauty.
My father said, «If she is your wife, she will become our daughter». And mom said, «She will live far away from her family, take care of her, do not offend». But Irina's family was strongly against our wedding at first. I had to go to her parents twice to propose!
Irina: My mom was especially worried. You know, she had a whole set of stereotypes about Muslims, for example, that my children would be taken away from me, I would be sold into slavery…
Naceur: And that she would be my third or fourth wife, while here in Tunisia it is customary to live with the one and beloved wife. And that's what I've been doing with great pleasure for many years, our son has already turned twenty-five.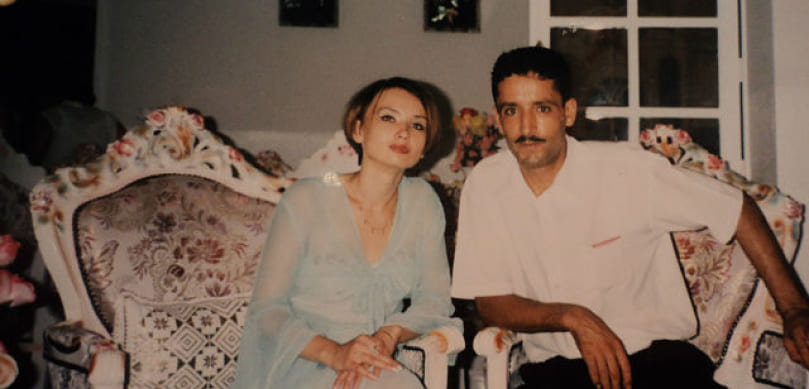 What other stereotypes about the difference in mentalities did you have to face?
Irina: It is believed that in families where the husband is Muslim, only the wife does the housework. But in our family mostly Naceur cooks and he really doesn't like any attempts to take away the role of the chef from him. Moreover, he cooks not only traditional Tunisian dishes, Naceur has also mastered European cuisine, the dishes which I like.
Sometimes I think he can read my mind. For example, I go home, dreaming of something delicious, come in the house and I see that somehow, miraculously, that very meal which I've just been thinking about is waiting for me on the table. Naceur «suddenly wanted to cook it». It seems to me that such telepathy is explained by the fact that people who love each other become almost relatives at some stage of their family life, they begin to feel each other, literally guess each other's wishes.
Comparing men and women – is self-realization really possible for Muslim wives only at home, in the family? You have an impressive career, but is this an exception rather than the rule?
Irina: No, not at all. At least, it's not like this here in Tunisia. Men and women have equal rights by law and in real life. A woman can choose – here they respect good housewives, those who don't work but do the chores and look after kids, as well as working women. Moreover, there aren't any restrictions – you can see ladies who work as traffic controllers, or even female pilots.
There are many foreign wives, and there is no pressure on them either. French, Italian, and women from the former USSR countries live in Tunisia. The most atypical of Tunisia couple that I know is the one where the man is Tunisian and the woman is Mongolian. And everything is wonderful, everybody is happy. Foreign wives of Tunisian men work as doctors, open beauty salons, and do business. The main thing is to speak Tunisian dialect of Arabic well or, even better, French, because here it is the language of business communication.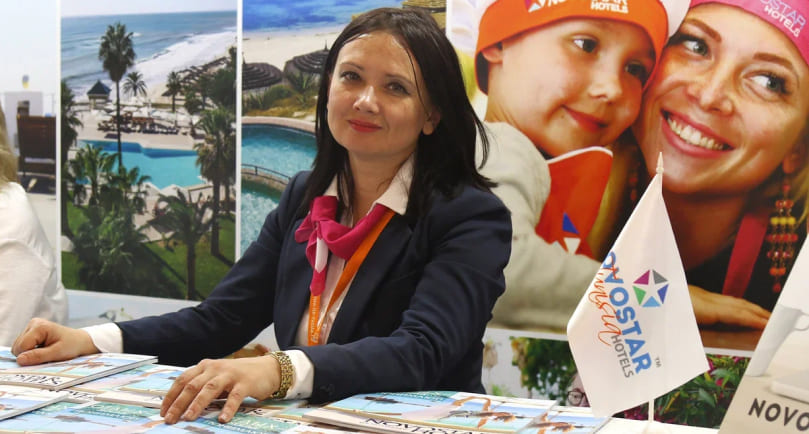 What about children in such families – how do they live? It's time to hear your son's opinion, he certainly knows the answer to this question!
Alexander: I was born and lived far from Africa until I turned three years old, now I often visit my grandparents in Voronezh and I remember my roots very well. When I was a child, my mom read a lot of books with European fairy tales to me, this is what I like. When we moved to Tunisia, at first I didn't want to learn the local language at all, but then everything got better.
I have a lot of friends here from school and sports. I graduated from the lyceum, I've been playing football since I was seven years old, my team is a prize–winner of city and national championships. For two years I played in the professional mini-football team of our city, in the second league. I'm a goalkeeper, I have several medals, but I don't have much time for sports right now.
I've been working in Carthage Group company for six years, I was a guest relation manager in almost all hotels of Novostar chain. I like helping people, solve the problems of tourists – and by the way, I manage to do it even after the guests have gone home. They often call me, asking me to advise a place to go on holiday to, which beaches to pay attention to and I always try to give really useful recommendations.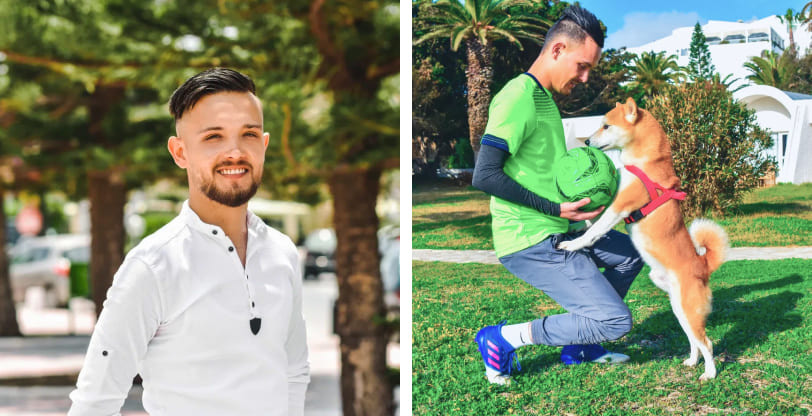 When did you earn your first money and what did you spend it on?
Alexander: That was before I started working officially. As a teenager, I went to harvest olives, helped my uncle at a construction site. This is, of course, at the suggestion of my dad, it was his way of upbringing. I spent my first salary on sweets, which I loved very much when I was little. This is probably common to all children in the world.
Dad always gave me pocket money, but he considers the ability to earn money by yourself, do something with your hands, including picking olives and building houses, to be vital, and I completely agree with him.
And your peers – are they like you?
Alexander: It depends. Someone, just like me, stays in Tunisia, works, makes a career. Someone is trying to leave, and here everyone has their own reasons.
For example, to get married in Tunisia, we have to spend a fortune on a wedding and not everyone can afford it. However, many men want to start a family and live happily with their wives. Meanwhile, a bride from Europe can simply be presented with a beautiful ring and such expenses will be enough, at least at the initial stage. Everyone has different traditions.
But more often my peers leave the country to earn money. One of my friends, also a football goalkeeper who I trained with, went to Italy, to his sister who lives there. Now he plays football there, in the third league. Things worked out for him but this doesn't always happen.
Is the emigration of young people a critical issue in Tunisia?
Naceur: Yes, in terms of illegal emigration. I am a teacher, my students are seventeen or nineteen years old, few of them are ready for such adventures. They get an education, make plans for the future, which they associate with Tunisia.
Basically, those who are unlucky with their education, who didn't manage to find a good job, want to get abroad illegally. Some people try to get abroad, sailing across the sea. They pay 6,000 dinars for a place in a boat designed for five people and get into it with fifty other people at a time. They often drown and then the sea sweeps ashore young boys and girls… Even the babies that the young parents took with them. It's hard when you learn about such cases.
Some people try to emigrate to Europe or England via Turkey, since visa-free entry is allowed there for Tunisian residents. Then Bulgaria, Serbia. But only a small percentage of migrants manage to get settled in a new place, most of them they spend nights at train stations, eke out a living. I think it is more reasonable to make the same efforts to improve your life here, at home.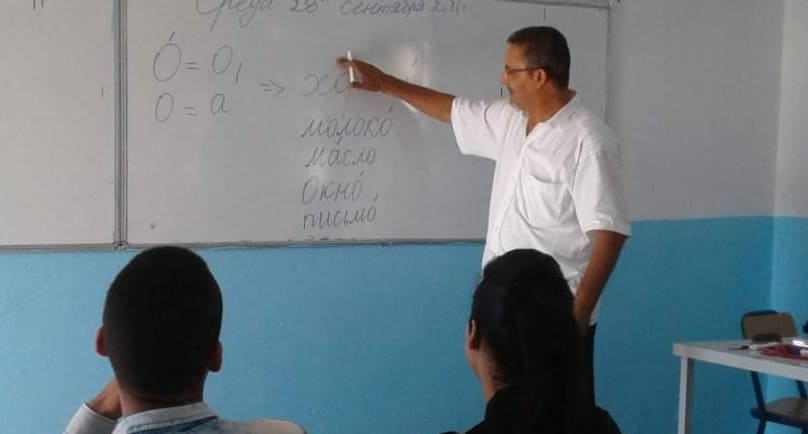 The question of finding a job in Tunisia can probably be addressed to Irina as you are a manager who has to recruit employees. Is it true to say that nowadays we live in the era of a staffing crisis?
Irina: There is indeed a sort of staffing crisis now. It is expressed not even in the number of candidates. The reason is their not quite realistic expectations.
Many candidates want to earn generous salary and perform a very limited range of duties. But it doesn't happen that way! In order to earn good money, you need to be as useful as possible.
I often conduct interviews with Tunisian and European applicants who want to join the Carthage Group team. And I pay attention first of all not even to a person's education, although this is also important, but to their interest, activity. We try to encourage our employees to make moves higher up the career ladder within our company and, in my opinion, it is the best strategy. I am very proud when those who I have believed in make a successful career. It is extremely pleasant and rewarding.
I've been working in tourism for many years, I know all sides of the industry. I've worked in different positions, except maybe a bus driver, though I could have tried it, I have a driving license. However, this is a rather difficult job that requires special skills. And speaking about Ramadan, which is underway now, it is the drivers who are allowed to ease their fasting as not everyone will endure a strict fast, going on a trip with tourists to the Sahara.
But many of our other employees keep the fast, and we adjust work schedules, wherever it's possible. We give people time to relax and prepare for a traditional evening meal after a whole day spent without food and drinks.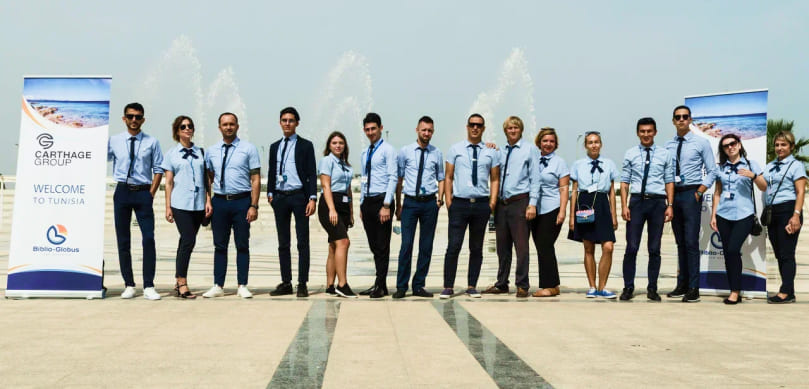 How do you spend Ramadan, considering that your family consists of representatives of different religions?
Naceur: Irina as a Christian is not obliged to observe fasting, this is the prerogative of Muslims. But we all love our dinners, which we spend together with our relatives – everyone brings something delicious, this is a very good custom. It's quite easy for us to get together, we live in a shared house, the first floor of which is occupied by my mom – dad, unfortunately, is taken from us – and on the top floor my brothers with their wives and children and our family live.
Irina: We have a really big house: everyone has their own separate entrances, even from different streets. Nobody bothers anyone. But we are really together, and the love and support of family are strongly felt. My home is my fortress, I can really say that. It is completely different from living in small families as it is customary, for example, in Europe. Although both options have their own advantages.
What are dinners during Ramadan? What dishes are served?
Irina: In Ramadanyou can have dinner only after sunset. And every evening the dinner time changes a bit – the closer to summer, the longer the days become. It's a test for believers.
We start the meal by drinking water. Then we a eat a soup, that is a Tunisian chorba, which is cooked with lamb or fish, tomato paste and lemon juice, seasoned with coriander and black pepper. The next dish is brik, it's a stuffed filo pastry, which fillings many people like to experiment with. There are even special groups in social nets where people share recipes and you can find everything there! Naceur makes briks with potatoes, eggs and parsley. And also with seafood, he mixes shrimps with spices – and, to be honest, I don't even know exactly which ones, it's his secret.
To briks we serve salads with tomatoes and cucumbers or traditional local mechouia with bell or hot pepper. After that, I personally stop and have coffee, but my men can easily continue and it's quite understandable as they haven't had a crumb in their mouth all day. And in the morning, before sunrise, we make a special breakfast, suhur. But here everything is much simpler. A glass of milk or kefir, yogurt, dates, bananas. The main pleasures in Ramadan are allowed only in the evenings. Daytime is a period of complete abstinence and prayers, it's a sacred time.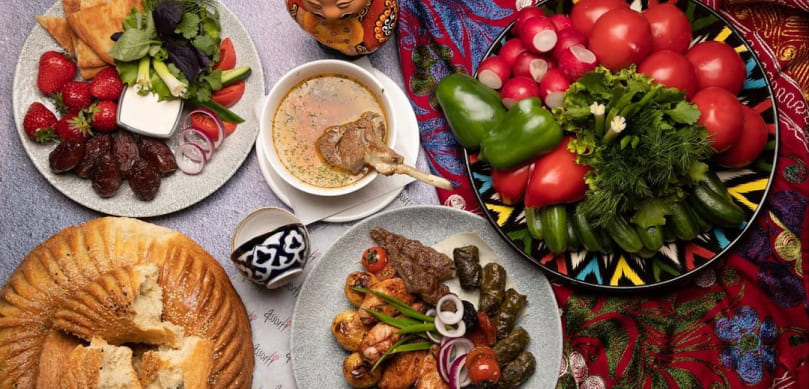 What can you advise tourists coming to Tunisia during Ramadan? How should they behave to show respect for local traditions?
Alexander: There are no special restrictions regarding tourists behavior during Ramadan in Tunisia, but I can advise our guests not to wear revealing clothes. Also try not to eat, drink or smoke outside of the hotels, in order not to embarrass those who observe the fast. I think that's all.
Ramadan is a special time. Muslims celebrate its beginning and completion in a very good festive mood. And what about European holidays? Do you celebrate them?
Alexander: New Year's Day is my favorite one.We decorate a Christmas tree, Dad cooks festive dinner. It's always truly delicious, I'm not such a virtuoso in cooking, although I also know how to prepare something, for example, I fry potatoes perfectly. We also celebrate Christmas and Easter.
Irina: And the 8th of March, International Women's Day, though here in Tunisia it's not widely celebrated. And this year I've become a participant in a cute scene on Valentine's Day, February 14. I stopped by to visit my mother-in-law, Naceur's mother, and saw a rose right in the middle of the table. I asked: «Where does such a beautiful thing come from? It's practically a valentine's card, who is it from?» Mother laughed: «From a grandson!» That's how we live.