BIO-EXPO in Tunisia: the Secrets of the Cosmetics Brand Lagune
«Two simply dressed men came to our stand: their hands and faces, darkened from working in the sun, made it was obvious that they do hard farm labor. And they… asked for a wrinkle cream!» – Anna Fedorinova, the General Manager of the Tunisian cosmetics brand Lagune, shares her impressions of the recent BIO-EXPO exhibition.
Why is this scene a completely common situation for Tunisia? What else was special at the exhibition? What pleasant surprises can fans of Lagune cosmetics expect in the near future?
We decided to ask Anna about it in more detail and we hope that it will be interesting to all Novostar friends, because wonderful shampoos, masks and other Lagune products are distinctly familiar to our guests. We regularly hold Lagune fairs, and tourists are happy to buy face and body care products that contain the healing power of the Tunisian sea and the aromas of flowers of this sunny country.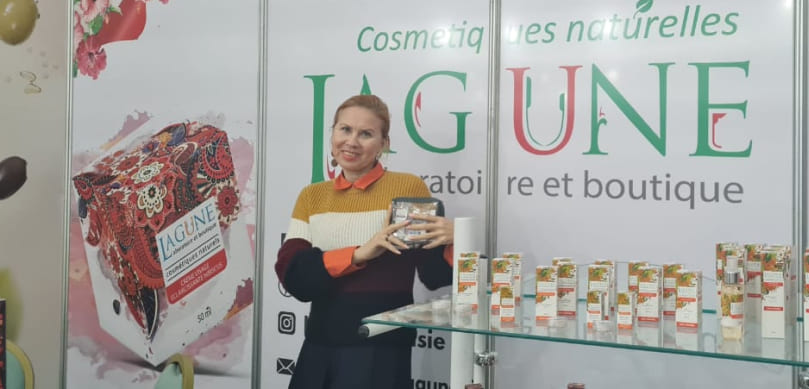 BIO-EXPO – where and when did this event take place, who participated in the exhibition?
The BIO-EXPO exhibition was held for the twelfth time from March 24 to 26 in Tunis, at the UTICA business center. The participants are enterprises of the agro–industry and related fields engaged in the production of biocosmetics and environmentally friendly food products, as well as companies whose activities are related to ecotourism.
The programme of the event was wide-ranging, issues of product quality control, business development strategies, biosertification peculiarities and much more were discussed at daily seminars and conferences.

What special things could be seen at the BIO-EXPO stands?
A lot of interesting things, and most importantly, useful, since the prefix «bio» basically means that you can see an exclusively natural product in front of you.
There were about a hundred stands with a lot of delicious exhibits. Different types of olive oil, which Tunisia is so famous for. Sweets, date paste, jam – the visitors especially liked pomegranate and orange one. Guests from Italy brought spaghetti made of naturally grown wheat, without chemicals – however, the same can be said about the ingredients of all other eco-products at the exhibition.
And at BIO-EXPO, the eyes literally grew wide from the variety of honey. Few people know that honey in Tunisia is just great. There are a lot of forests and meadows in the north of the country, and local beekeepers can surprise even gourmets with the quality of their honey.
The exhibition was officially organized and supported by the Ministry of Agriculture, Water Resources and Fisheries of Tunisia. The Minister himself was present and, by the way, the Ministry's stand was opposite to ours.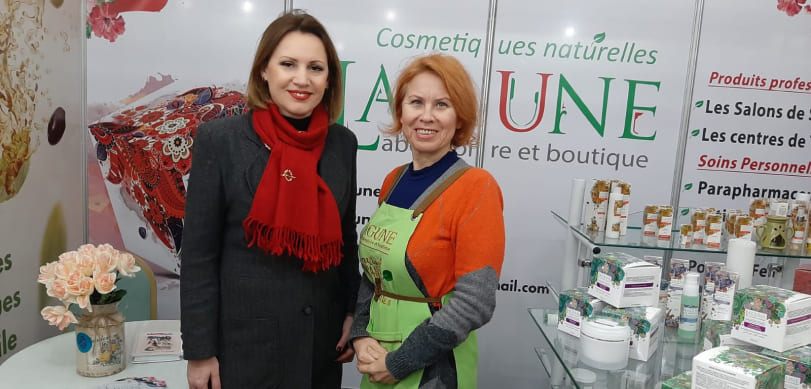 Did such neighboring not distract the attention of visitors from the exposition of the Lagune brand?
We have lovingly decorated our stand and brought the products which are really popular among our clients. There were about eighty items of cosmetics, including children care – only few brands make cosmetic products of this category, since getting a specification for delicate bioproducts for the youngest is extremely difficult. To get it, you need to be specialists, let's say, with weighty responsibility.
Moreover, we presented our professional algae-based products for thalasso centers and SPAs. Not many brands focus on these care products either, they are special therapeutic goods and their production requires a structured approach. The Lagune brand was the only one with such an offer at BIO-EXPO this year.
We organized a photo shoot for our guests, arranged a raffle of unique cosmetic products made especially for the exhibition. And as a result, I am pleased to say that we had a lot of visitors.
Who is most interested in Lagune products?
Speaking about our customers, among them there are many Tunisians and Europeans who live here permanently. There are also residents of different countries in Africa, Europe, and North America. Our bioproducts are relatively inexpensive, though they are made of very high-quality raw materials, which are not only Tunisian, by the way. For example, we bring karite oil from Burkina Faso.
Although our secret is not only in the choice of raw materials. We adapt our products to certain customers. Different skin types, different hair, different problems that need to be solved. Climate, genetics – everything is different. For example, Korean cosmetics that are so popular nowadays are not always useful for European fashionistas; moreover, sometimes they can do harm. Creams and masks for Europeans and Africans should not be the same and we take it into account.
What kinds of guests visited your stand at BIO-EXPO? Perhaps they were mostly women? What products of the Lagune cosmetics range were in high demand?
As for female customers, there are some peculiarities in Tunisia. For instance, during the exhibition, two very simply dressed men came to our stand, it was obvious that they do hard farm labor. And they asked for something to reduce wrinkles, as the scorching sun negatively affects the skin. We consulted them properly and the men purchased both, night and day care products, as well as a luxurious shaving cream and some other seemingly «women's stuff».
For some Europeans such a scene could cause cognitive dissonance, but here it is quite a common situation. Local men are fond of taking care of their appearance almost more than women.
Most of the visitors of our stand were interested in cosmetic oils for the body, face and hair. And, of course, shampoos – as one of our best-sellers I can mention a product made on the basis of Tfal clay. In terms of effectiveness, none of those synthetic shampoos that you can usually see on supermarket shelves are not comparable to this absolutely natural product. With proper use of a «clay» shampoo, the hair becomes elastic, begins to shine.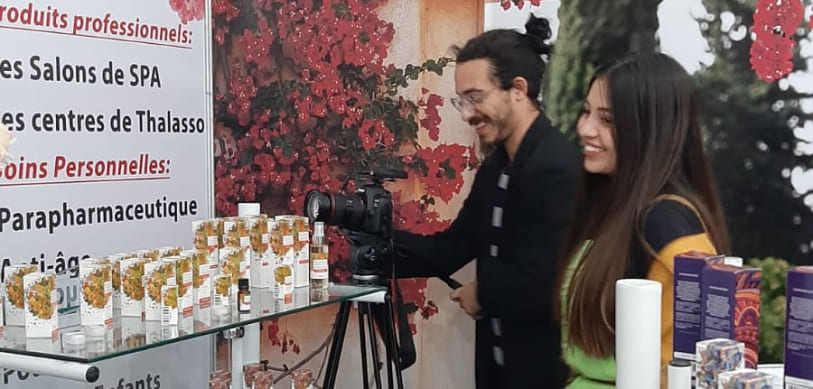 How is the Lagune brand going to please its fans in the future? What new products are you preparing?
While producing cosmetic goods, we focus on traditional recipes, tested and confirmed for centuries, and develop our own exclusive formulas. We take fashion into account, for example, among European customers there is a trend for cosmetics with marine collagen and we have such goods. But Tunisians prefer «timeless» products, for instance, black Beldi soap made of unrefined olive oil and a press cake, which is indispensable in the hammam. This soap will be appreciated by allergy sufferers, people with sensitive skin and everyone who cares about the health and beauty of their body.
If we make some complex products – for example, face creams – then we come up with a whole line based on a certain ingredient typical of the Mediterranean. Fans of our brand have already fallen in love with the pomegranate, fig, and hibiscus series.
But this year we've decided to try something completely new. Dietary supplements with spirulina, blue-green algae, which have a lot of medicinal properties. Always popular dietary supplements for weight loss and immunity boost, products that help in the treatment of various skin diseases – our technologists have big plans. Joint problems are also in focus, we are developing dietary supplements with collagen, which we use in our creams, but it is also an effective means for improving your health from the inside.
We closely monitor the new technologies that appear in our industry and maintain the quality standards of our products at a decent level.
What were the main goals of the Lagune brand at BIO-EXPO? Did everything turn out the way you wanted?
We wanted to establish professional relations with wholesale cosmetic suppliers both in Tunisia and abroad. We aimed to give an opportunity for exhibition visitors to test our products. We have achieved all our goals and we hope that as a result of participating in the exhibition we will make even more friends.
Those who weren't able to become guests of this wonderful event can find our products in branded stores located in the capital of the country, Tunis, and in Hammamet. There is also a salon in Sousse, among whose clients are Tunisians and many Europeans permanently residing in this city. Cosmetologists from Europe work here on high-quality products of the Tunisian brand Lagune, and all our regular visitors highly appreciate the opportunity to receive qualified service of a truly European level. Moreover, a range of our products is presented on the Jumia marketplace and directly on our website.