Novostar in Armenia: We Are Meant to Be Together
People who love family holidays know how important it is to organize such a vacation properly. Both the children and the adults should be happy and everybody should feel rested when coming back home.
The approach of Novostar Hotels to this difficult task, as well as the amazing opportunities of the tourism industry in Tunisia, the cultural heritage of this country and the most unexpected moments related to travelling were discussed at a seminar of travel industry professionals which has recently been held in Yerevan.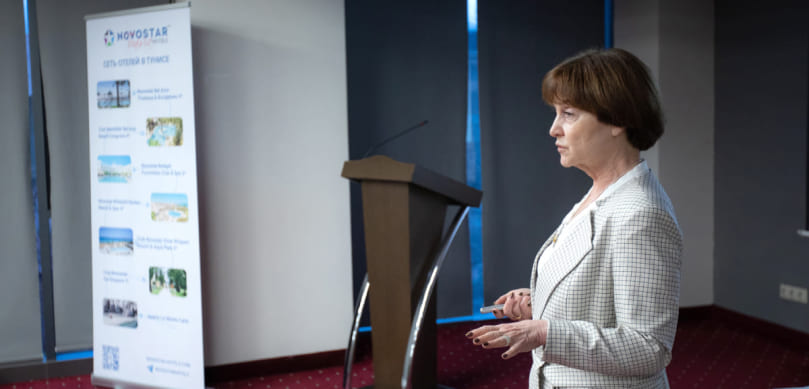 We've asked Alla Filimonova, the General representative of Carthage Group in CIS and European countries, to tell us more about this event.
Who took part in the Yerevan seminar and what topics aroused the greatest interest of the participants?
The seminar was attended by representatives of more than seventy travel agencies of Armenia, and the information about the wonderful gastronomic traditions of Tunisia, the availability of first-class hotels and the stunning cultural heritage of the country was a pleasant surprise for a significant part of the participants.
Of course, there are fans of holidays in Tunisia in Armenia – and I think there will be more such people soon, as it is planned to resume direct flights from Yerevan to Tunisian airports. But in general, for most Armenian travelers, this is either a forgotten or a completely new direction.
Tourists from Armenia mostly prefer traveling to Italy and Greece. Such affection is quite understandable: delicious food, good hotels, and famous historical sites. But a vacation in Tunisia is exactly comparable to a holiday in the European Mediterranean, although there is an important difference – a trip to Tunisia will be much cheaper.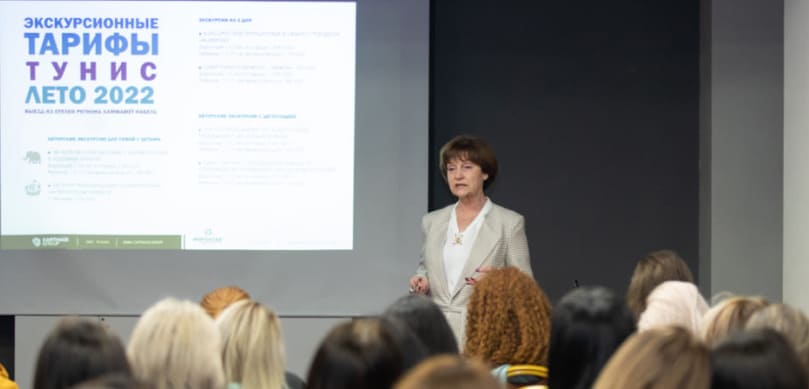 It is known that guests from Armenia like traveling with large families. Does this impose any additional responsibility on hoteliers? What are the features of such a holiday?
It's better to tell about it by example of Novostar Hotels, the chain where special attention is paid to the organization of family holidays, especially meals for children. Restaurants in Novostar Hotels feature a balanced children's menu: there are not just chips and hamburgers but milk dishes, chicken soup and much more. Armenian moms were really glad to learn about that.
Moreover, in Novostar Hotels you can find children's buffets where little travelers can choose by themselves what they want to eat. Furthermore, there are special dining areas equipped with little chairs where a children's animator assists young guests and makes sure that they eat enough amount of food while their parents enjoy their meal with a glass of wine.
Yes, it's really great. Children need full attention, so you can't completely relax or leave them alone to do something on your own…
I cannot but mention thalassotherapy which is just outstanding in Tunisia. Tourists are keenly interested in wellness treatments which are done with sea products such as algae or sea mud, so many guests come to the country just to take courses in thalasso centres to treat minor ailments, rejuvenate and boost immune system.
But the question arises: how to combine the holiday of a large family with children, who require attention and care, with visits to thalasso centers that take three to four hours a day? Novostar Hotels come to the rescue again: great professional animation allows you not to worry about the kids at all! Moms and dads have only one problem left, to persuade the child to return to the family.
Also, there are special family guided tours which are adapted for children, for example, to the Friguia Park. And it's not an ordinary tour with a guide's comments like "elephants are on the left and giraffes are on the right" but a quest with awarding diplomas "A Young Professor of Zoology" and a picnic. Moreover, not only "young professors" but their parents as well, take part in the quest with great pleasure. I think such a bond between generations is very important.
The seminar in Yerevan was held on April 7, in Armenia it is the Motherhood and Beauty Day. Thus, I saw with my own eyes how important family values are for Armenians. By the way, it makes them very similar to Tunisians.
There must have been a lot of questions about Tunisia – it's impossible not to get interested in this country!
The discussion lasted over three hours, I was really bombarded with questions. It was right at the seminar but there were also additional meetings in offices and conversations literally about everything.
About the rich cultural life of Tunisia, for example, about the International Music Festival in El Djem where virtuosos of Milan's La Scala and the Vienna Opera perform. The concerts are held in a perfectly preserved ancient Roman amphitheater, and it is an incredible, fascinating action.
Much attention was also paid to the world–famous Tunisian attractions, such as the legendary Carthage, the magnificent Dougga, ancient Arab medinas, and the richest collections of museums in this country. There is a lot to see in Tunisia – there are more UNESCO World Heritage Sites here than in Egypt. And don't forget about trips to the Sahara and photo shoots in the city of poets and romantics, blue and white Sidi Bou Said…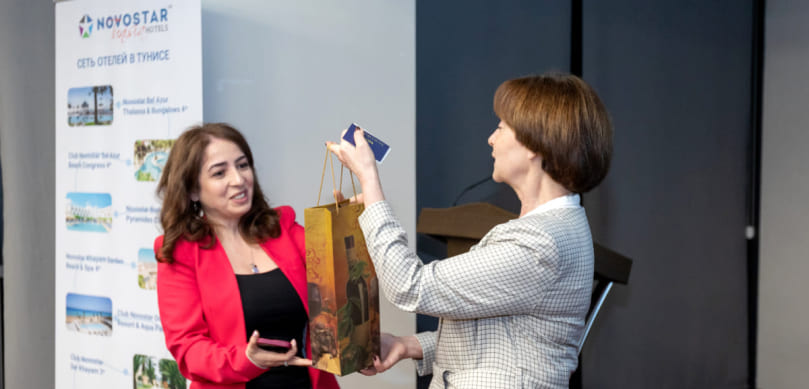 The variety of tour programmes in Tunisia is really amazing. And what surprised your interlocutors the most?
Yes, there really were some surprises. The participants of the seminar were greatly surprised by the fact that in a Muslim country they make fine wine which is almost as good as the famous French one and red, pink, white and even gray varieties can be easily purchased. And among the offers from Carthage Group companies, which include Novostar Hotels chain, there is an author's tour with a visit to the winery.
I cannot but tell you about a tour to one of the olive oil mills of the company "Al Jazira" where tourists can taste an absolutely natural product which is totally different from those that we can buy in supermarkets. Many travelers have found such experience a real gastronomic discovery. And I'm not talking about delicious Tunisian cheese and culinary masterpieces of local chefs: all that awakened a genuine interest of my interlocutors.
What features of Armenian guests can you mention?
Tourists from this country have some certain preferences. For example, if a room is not in a bungalow, then it is better not to offer them the ground or first floors. At the same time, rooms near the lobby are in demand, they are more popular than the once not far from the sea.
One of the major priorities is quality service, guests from Armenia highly value cleanliness and order. But when the service becomes intrusive, it's irritating and repelling. By the way, the participants of the meetings in Yerevan considered the information about self-service laundries, which are available in Novostar Hotels, to be very important. In general, tourists from different countries find this service very useful.
I can say that Tunisian hoteliers are preparing to welcome Armenian tourists properly, they are trying to take into account all the nuances.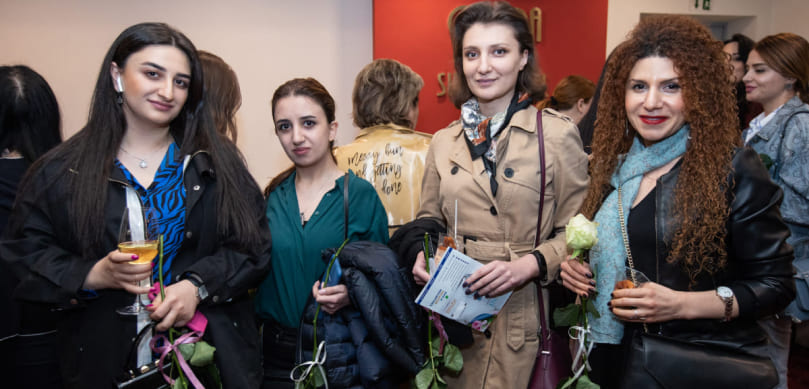 And what can you say about your trip to Yerevan? What are your impressions about meetings with your colleagues and the city?
In short, the overall impression can be described as "warmth and smiles". And it was warm in Yerevan in every sense of the word. The air temperature was 20°C. Then, however, it got a little colder, but I remembered the city like a warm one.
I've had to talk about Tunisia many times in different countries and cities, but I do not recall such lively interest and benevolence. The city is full of friendliness and smiles: smiling people on the street, in restaurants, in the hotel. And there was gratitude for the visit and discussion, hopes for cooperation at all meetings.
While visiting the museum in Yerevan, I saw a handmade wooden bench of rare beauty and took a picture of it. I immediately remembered a unique handmade wooden table of the same style which I saw in Tunisia, it matched the bench perfectly! Those bench and table are literally meant to be together and I'm sure it was a sign that so do we!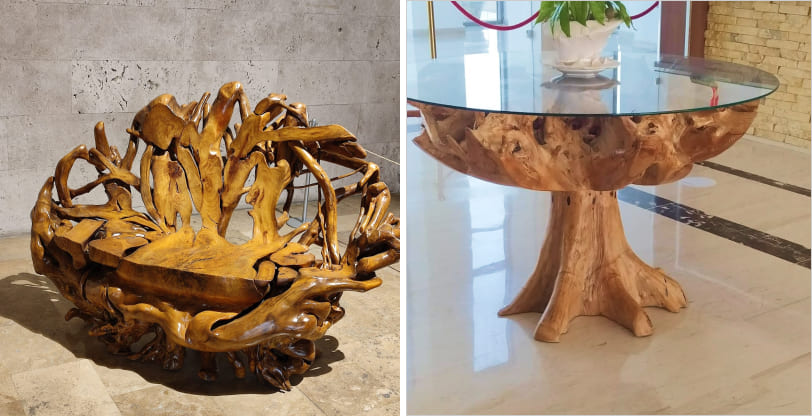 See more photos of seminar.