Living in Apartments: An Insider's View
What about staying at places that you've visited a thousand times on familiarization trips?
This is the experience that one of the Carthage Group managers has decided to tell us about. She is a travel & tourism professional who has spent her vacation in Tunisia and seen the country from an unusual angle.
If it seems to be interesting for you, read the first-person article!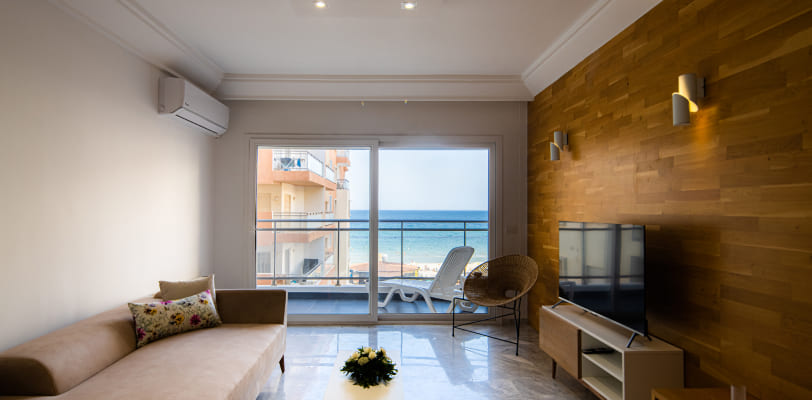 «Sea View Holiday»
I came back home yesterday night and want to tell you about my trip to Tunisia. It was an absolutely new experience that gave me the chance to see the country that I know very well due to my work, from a different angle. It's the insider's view.
Novostar Apart Monte Carlo in Sousse is a new property of the hotel chain this season. I know a lot about the apartments: my colleagues and I have answered many questions about such a kind of accommodation facility, I've given seminars and written articles and posts in social media on the basis of photos and stories of those who had been there.

My family (my daughter with her husband and two children aged 4 and 11) have been happily living there since the end of May. And, finally, I've managed to stay in the Novostar Apart Monte Carlo D46 myself.
I'll tell you my conclusion on that «sea view holiday» right away. Travelling to Tunisia with your family for the whole summer or a month and a half, when adults' work can be easily blended with memorable holidays of children, is not an advertisement but reality. The reality which you don't want to be removed from.
Confessions of a Night Owl
Now let's go into details. Work environment in Tunisia is great. I mean not only the high-speed Internet but the possibility to find in a spacious apartment a comfortable workplace for each family member. After my arrival, there were three of us, adults sitting at computers, and it was absolutely fine, there was enough space for everyone.
And looking aside the computer screen we could see the sun and the sea. As for me, it always lightened my mood and maximised my efficiency.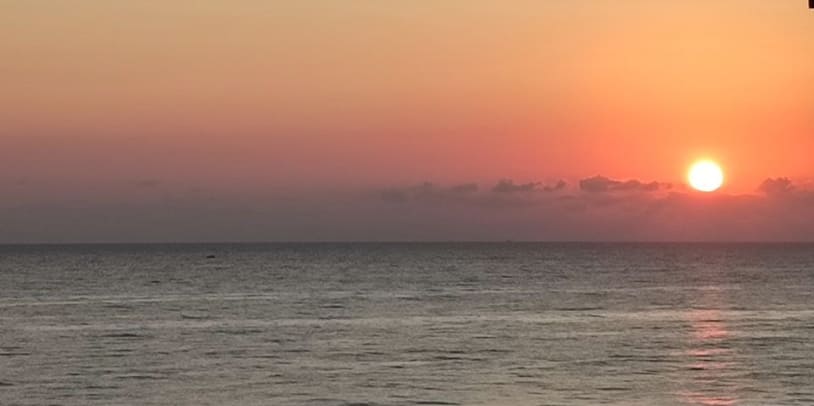 You'd probably say that the sea is meant to be swum in and not to be looked at behind the screen. Believe me or not, but you can perfectly blend both, since the beach is located right in front of the residence and you need just a short break to go swimming.
Plus, you can swim in the morning. I'm a typical night owl who can wake up early in the morning only if I really have to and don't have a choice. However, in Tunisia I got up at 6 o'clock in the morning and went for a swim. My 11-year-old granddaughter was happy to keep me company. Before travelling to Tunisia she had passed her art school entrance exams and worked as well: she drew from life waves, palm trees and me swimming. I am proud that I had a chance to be a model!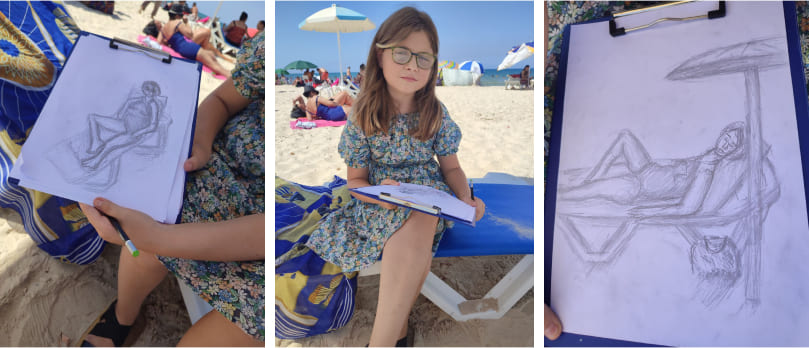 What to Eat in the Apartments?
However, the question usually is a bit different: is the food provided or you have to cook by yourself?
The answer: you can cook (note that I've intentionally changed the verb), there's everything you need for it. It's not a problem to buy food, as a good supermarket Monoprix is situated nearby, as well as greengroceries, small shops and great bakeries where delicious croissants and buns are made every morning. By the way, in the evening you can buy three baked goods for just one dinar.
In general, while living in the apartments, you're always free to choose what, how and where to eat, or not to eat at all. For example, children may want to eat porridge and you want to have only fruits for breakfast, anyway, you can always get together in the dining room. But it's more convenient to eat out in cafes and restaurants, since there are a great number of them near the residence.
And choosing a place for family breakfast or dinner is a ritual. The coffee is tastier there, but the grilled chicken is truly delicious here… At the same time, you can hardly spend 100 dinars for a meal for five people (3 adults and 2 children). The exception is restaurants in tourist areas, for example, in Port El Kantaoui.
The cost of food is a topic for another article but I've already written and said a lot about it, so I don't want to repeat myself. I can only add that after coming back home, I went shopping to the nearest supermarket. I bought just a few things and when I converted the money I'd spent to dinars by habit, I wanted to burst out crying.
Family Atmosphere in Details
I also want to tell you about the atmosphere in the Monte Carlo residence.
Children can play, go for a walk and splash in the pool and you don't have to worry because the residence is gated and guarded. Adults can have a seat at comfortable benches. People are very friendly, the atmosphere is warm and welcoming.
The residents of the Monte Carlo especially liked my granddaughter who is fond of drawing: they came to have a look at "the working artist", "the model" and quietly, so as not to interfere, expressed their admiration.
However, some people may find it too noisy because of playing, running and clamouring children. But it's summer and they are just children. If you want something else, the beach is right outside the residence. There you can rent beach umbrellas and sun loungers at affordable prices, and have lunch or dinner in the restaurant.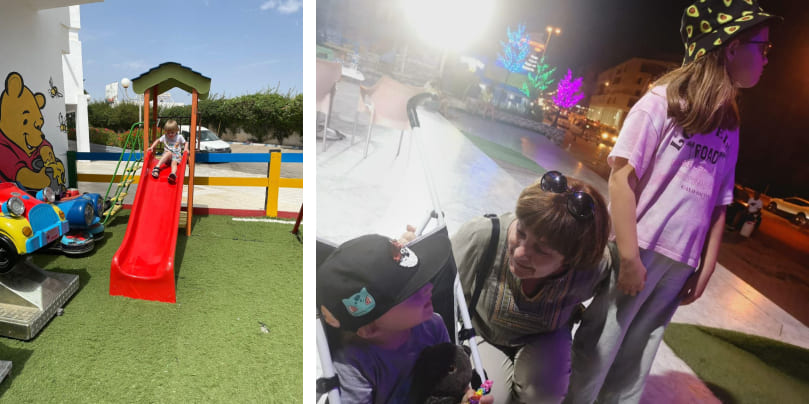 Why Tunisia?
To be honest, I've had some experience of living in apartments, I've stayed there in Portugal and Spain, Barcelona and Málaga. And I have to make a confession: in spite of my pure love for these countries, if I face a choice of a place to spend summer with my family, I'll definitely choose Tunisia and the Monte Carlo residence. And I'm sure that my relatives will do the same.
The reason is a special friendly atmosphere that you get to right after the arrival and, of course, the price of the stay which actually really matters.
As for comfort, Novostar Apart Monte Carlo is not less, and from some points of view is even more convenient than apartments in, for instance, Spain. And there's no doubt that you won't find such professional concierge service which is provided to the residents of the apartments anywhere else in the world except for Tunisia. My colleagues, the staff of Carthage Group, are always ready to help, support and answer any questions of the guests.
It's Time to Pack Luggage!
We've just come back home but my family has already started making plans for the next stay in Novostar Apart Monte Carlo. And the plans aren't for next summer but for autumn and winter.
My daughter and son-in-law have completely switched to remote online work for the last two years, so for them it's just perfect. The youngest family member, my 4-year-old grandson, says that we should go back to Sousse. Only our little artist is sad because she can stay in Tunisia only for the time of short school holidays.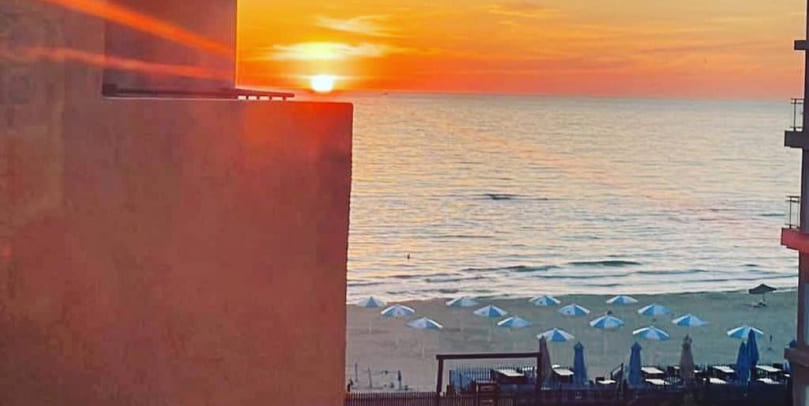 So, I think it's time to pack suitcases!Don't miss our next first-person article about the stay in Novostar Bel Azur Thalassa & Bungalows 4*, it'll also be full of details and impressions.