Hammamet: A City for Pleasure lovers
Yachts scattered across the bay like light flower petals. White walls of houses against a bright blue sky. Beaches with soft, silky sand.
All this is Hammamet, a resort on the Mediterranean coast of Tunisia. A hedonistic paradise, a city where pleasure-lovers from all over the world flock to.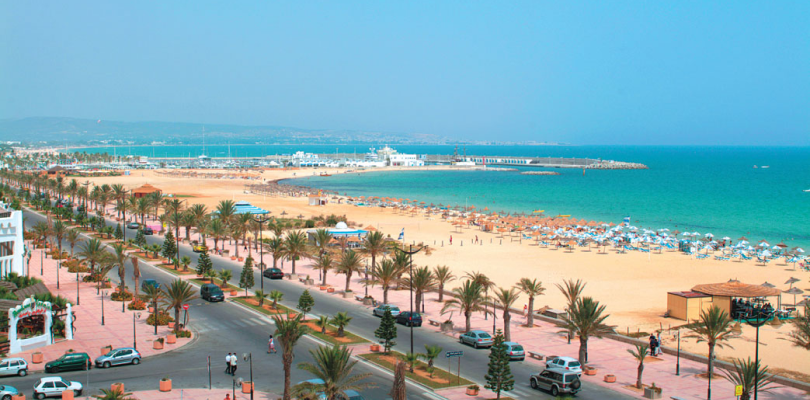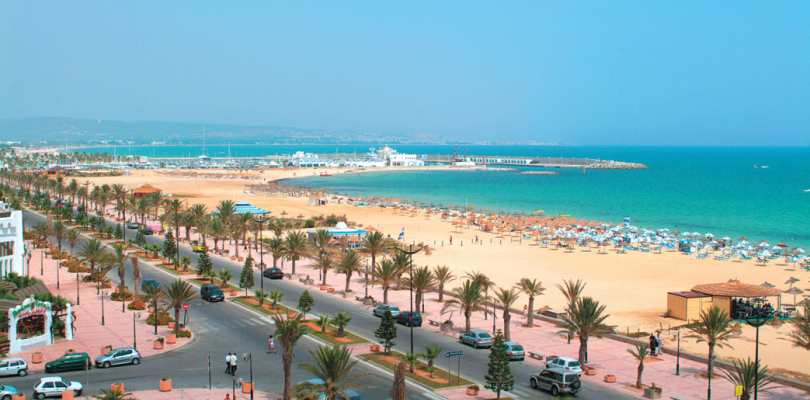 Location & Other Details
Hammamet is located at the northwestern tip of the Bay of the same name, stretching from Monastir in the south to Cape Bon in the north.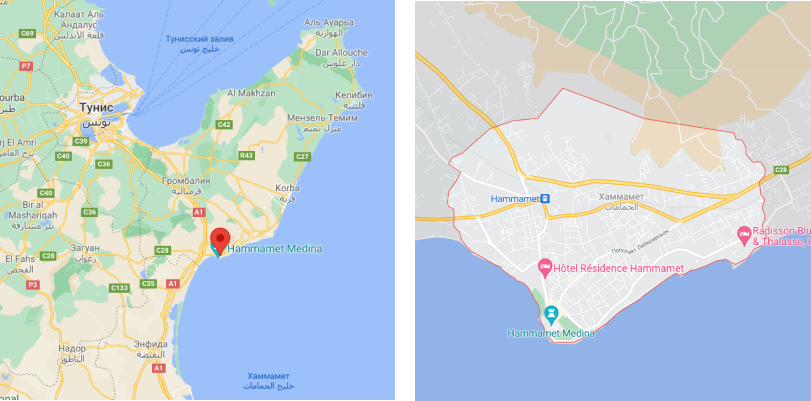 Population, Language, Religion
This is a cozy city, where about 100 thousand people live, but during the season the number of people on its streets increases several times due to tourists and those who come here to work in local hotels, restaurants, clubs, parks and shops.
People speak Arabic and French in Hammamet, and also use a non-standard Tunisian dialect of Arabic, which, according to linguists, is most similar to Maltese. The main religion that the locals belong to is Islam, but there are also representatives of other religions here – for example, Christianity and Judaism.
Nature & Weather
Hammamet is a city surrounded by greenery. There are no high-rise buildings here, and nothing blocks the trees from the sun, which is enough in Hammamet, especially in high tourist season, spring, summer and autumn.
Due to the proximity to the sea, the climate is quite mild, on the hottest summer days the temperature rises up to +30°C or slightly higher, the nights are a few degrees cooler. And in winter, when the weather is cold, the temperature drops to +15°C during the day and +10°C at night. The water temperature from May to October is from +18°C to +27°C.
Thalassotherapy in Hammam City
December is the wettest and windiest month in Hammamet, however, tourists come here at this time of the year too. The reason is that Hammamet is one of the leading thalassotherapy centers in Tunisia. And it is in winter, when nothing distracts you from procedures, a therapeutic vacation becomes especially effective.
Seawater, algae, mud wraps, massage with natural oils – experts recommend thalassotherapy courses as an effective means of resetting your body. Thalasso specialists working in Hammamet deal with a variety of problems– including pressure drops, joint pain, and disorders of the nervous system.
Thalassotherapy is also a way to maintain and restore youth and beauty. Dull skin color, wrinkles, cellulite – after procedures performed with the sea products, your face and body literally begin to shine, and this fact is confirmed by thousands of women who come back here every year.
By the way, Hammamet was a resort even in Roman times, and ancient people were the first who recognized the need to travel for recreation and physical recovery. And from the Turkic languages, its name can be translated as "a bathing place" or "a bath city", which indicates that Hammamet has always been a center of attraction for those who want to spend time with maximum health benefits.
Places to Visit in Hammamet
Hammamet is a city with a rich history. Founded at the dawn of our era on the site of a Phoenician settlement, it was a part of a Roman colony, then it passed to the Arabs. At the end of the century before last, the French settled here, and during the Second World War, the headquarters of the German troops was based in Hammamet.
Old Medina
In order to sense the atmosphere of the Arab Hammamet, it is worth visiting one of the most beautiful and interesting places in the city, the Old Medina. It is small and cozy, with Moorish-style houses and narrow streets, wandering through which is a special pleasure, since there is no crowd here, as the Medina is not a densely populated area.
During an excursion to the Medina, you can admire the Spanish fortress Ribat Kasbah, which was built, according to various sources, in the 9th-10th centuries AD. Fortress walls with a height of about 13 meters, a watchtower, cannons displayed in the courtyard – this place will appeal to fans of historical adventure novels. The walls of Rabat Kasbah offer an amazing view of the bay.
Also here you should definitely take a look at the Olive Mosque, which was constructed at the beginning of the 13th century AD, and visit the Dar Hammamet Museum, which presents a colorful exposition of the national costumes of Tunisians.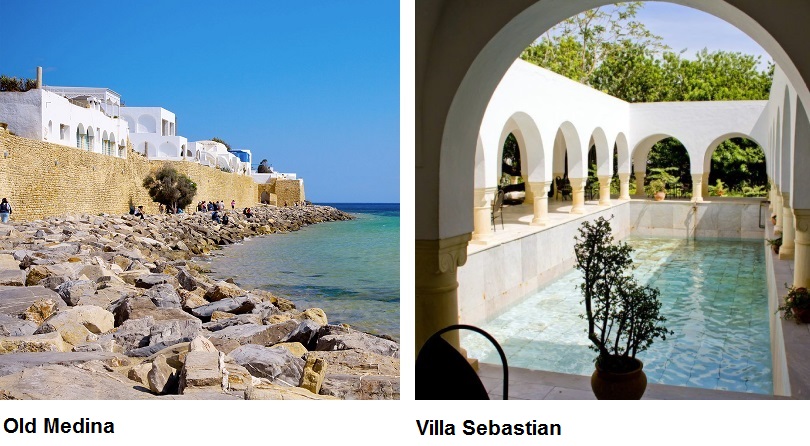 Villa Sebastian
The villa, built by a Romanian millionaire in the mid-20s of the last century, is another interesting place to visit. Georg Sebastian, who was acquainted with prominent politicians, artists and businessmen of his time, once being in Hammamet, was so fascinated by its beauty that he decided to build his dream house here. The building with vaulted ceilings and elegant columns still serves as a standard of style, which even today has many adherents.
The guests of the villa were English Prime Minister Winston Churchill, US President Dwight Eisenhower, King George VI of Great Britain. During the Second World War, here was the headquarters of Erwin Rommel, a general field marshal and commander of the German Africa Corps, who was nicknamed the Desert Fox for his outstanding ability to conduct military operations in Africa.
The villa boasts a botanical garden with an ecomuseum and citrus trees, in the slight unkemptness of which there is a special charm that attracts romantic travelers here. However, the botanical garden is not all that the villa can please romantics.
Concerts and performances are held in the amphitheater, which is also a part of this tourist attraction. The villa hosts an International Festival of Arts, which is attended by performers of classical and modern music, dance masters and stage virtuosos – this is enormous pleasure for the lovers of beauty in its any from. Tickets for all the events are usually inexpensive, so you can get immense pleasure even just from being here: the action takes place in the open air, and from the upper seating levels of the amphitheater you can enjoy a panoramic view of the bay.
Pupput Ruins
And finally, a place where you can feel the ancient spirit of Hammamet, look at the masonry of almost destroyed buildings constructed thousands of years ago. This is an archaeological monument that remembers the ancient Romans.
The remains of mosaic panels that decorated the houses of wealthy citizens miraculously survived here. Looking at the ruins of Pupput, as Hammamet used to be called, it is easy to imagine what this city was like in its original times.
Yasmine Hammamet: Yachts, Pirates & Fishermen
In the southern part of the city there is Yasmine Hammamet or Jasmine Hammamet, which is an area specially created for tourists. There are a lot of shopping centers, hotels and cafes, a magnificent amusement park Cartage Land with Aqualand and parks Ali Baba and Aladdin, where visitors can feel like the characters of a real African fairy tale.
But the main advantage of Jasmine Hammamet is a yacht port, along the embankment of which it is so pleasant to walk, enjoying the view of hundreds of yachts, boats, catamarans and sailing ships.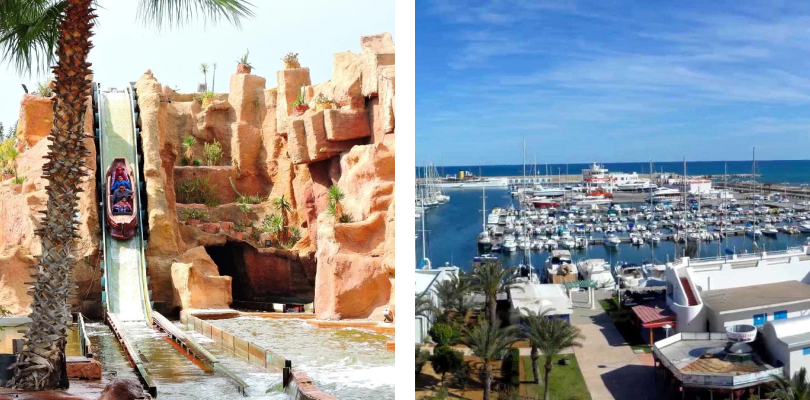 Idyll of the Yacht Port
Marina, as this largest harbor in North Africa is called in another way, is traditionally chosen as a parking place by yachtsmen from France, Spain, Italy, Portugal. Mooring here is more profitable than in many other ports, so you can see up to 700 different vessels at the same time off the coast of Hammamet.
The owners of watercrafts often stay on board, making bicycle trips in the mornings to the nearest bakeries for crispy French baguettes, and holding deck gatherings with light wine in the evenings. These are idyllic, blissful scenes, and it is impossible not to smile while watching them.
Pirate Sailing
Not only yachts, but also galleons and schooners sail from the port of Yasmine Hammamet. They are under pirate flags, with groups of tourists on board.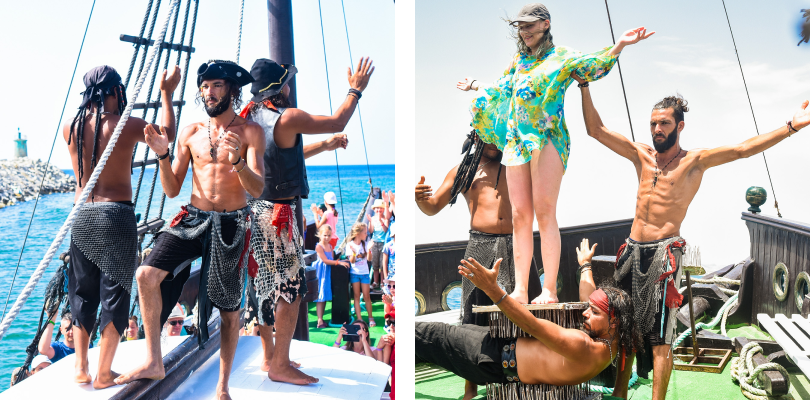 Fishermen's Joys
For those who are more serious, fishing boats are organized from the yacht port. Bottom fishing, trolling, trophies in the form of magnificent royal mackerel, dorado and sea bass – there is something to win the cold fishermen's' hearts.
However, not only fishermen can get pleasure, but also lovers of fish gastronomy. Along the Yasmine Hammamet embankment, parallel to the line of berths, there are a number of cafes and restaurants offering to taste the freshest seafood.
What Else to Do in Hammamet?
But, of course, the range of activities for tourists in Hammamet is not limited to thalassotherapy, historical sights and various kinds of adventures. Beach holidays, shopping, trying Tunisian cuisine and local wines, parks, discos on Moncef Bey Avenue – the so-called "Disco Street" – you can choose an activity for any mood and any wish.
Beaches
The beaches in Hammamet are wide, the sand is fine-grained, pleasantly massaging your feet. The entrance to the water is gradual, gently sloping. The sea is clean, since there are practically no industrial enterprises in the district and, correspondingly, toxic waste, the dumping of which could prevent you from enjoying swimming. Water sports stations are open on hotel beaches, as well as beach bars and barbecues.
Another important detail: Hammamet is extremely lucky with jellyfish, or, to be more specific, with their little number. These invertebrates have a habit of coming to the shore during the mating season, in summer, at a time when the coastal waters are most warmed up. And it would seem that in Hammamet, with its warm and gentle sea, there are all conditions for their comfortable existence, but nevertheless there are very few jellyfish here. The fact is that the northeast wind often blows in this region, and gelatinous marine animals prefer a completely different wind rose, with the predominant movement of air masses from the southwest and southeast.
Let's Go Shopping
The center of shopping in Hammamet is the New Medina, abounding not only with restaurants and cafes, but also shopping centers, shops and stores.
In the New Medina you can buy jewelry, souvenirs, dishes, clothes, shoes, carpets, ceramics. Though, speaking about ceramics, it makes sense to buy it not here, but to visit the neighboring city Nabeul, located 15 km east of Hammamet. There you should see pottery workshops, get familiar with the process of making masterpieces from clay and then choose something to your taste.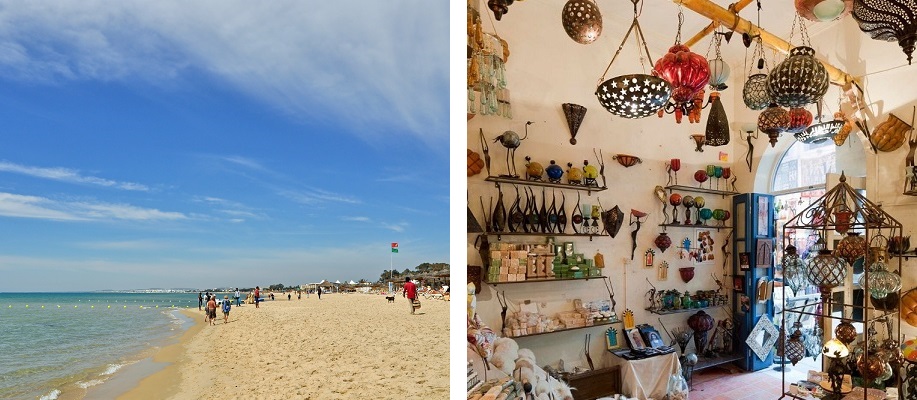 Around Hammamet
In general, it is very convenient to go shopping from Hammamet to neighboring cities, as it is located approximately at equal distances from Sousse and the capital Tunis. Such trips can be made independently, but it is better to trust the tour operator – traveling around a country with an unfamiliar culture can be fraught with unpleasant surprises.
In general, accommodation in Hammamet isextremely advantageous from the point of view of its geographical location. Having settled here, you can visit many important tourist attractions of the country with excursions – take family photos in the 3D museum of Sousse, have a look at the excavations of ancient Carthage, taste wines on Cape Bon and much more.
Cosmetics from marine farms
Another popular type of local shopping is the purchase of natural cosmetics. Brand boutiques of Lagune cosmetics are located here, you can bring really unique beauty products in terms of their effectiveness from Hammamet. Masks and creams for face and body, therapeutic and cosmetic mud, refreshing and rejuvenating oils, made of high-quality ingredients. All products are made from raw materials supplied by marine farms and botanical gardens located in ecologically clean areas of Tunisia.
Foodies' Joys
And a joy for gourmets. First of all, you can eat seafood in Hammamet – lobsters, lobsters, octopus, cuttlefish – baked in cream cheese, garlic sauce or grilled. But although such seafood is cheaper here than in Eastern Europe, it is still quite expensive, and it is usually served in restaurants for tourists.
It is better to try local food in small bistros. Little not fancy restaurants offer huge portions of amazingly delicious treats with harissa, pepper sauce with olive oil, coriander and cumin. And all these at low prices. Thanks to the hot harissa, Tunisians do not freeze in windy winter and are mostly protected from infections in the summer heat. This popular product is given here even to children, toddlers from one year old. Harissa is a major ingredient in the menu of a traveler who wants to taste Tunisia in general and Hammamet in particular.
Some other interesting and unusual dishes include shorba (spicy red soup with bulgur or couscous), kusha (lamb leg stewed in the oven with cilantro), couscous (in Maghreb, with vegetables and spices) – the list goes on and on.
You can wash down the food splendor with wine – in Hammamet it is of high quality, with an exquisite, delicate taste. Red or white, as you like. And even better – rosé, which gets almost everyone, who has tried this drink in the Tunisian version, hooked on. The wines here are always dry or semi-dry, local producers do not recognize sweet and semi-sweet wines.
Hotels in Hammamet
Novostar Bel Azur THALASSA & BUNGALOWS 4*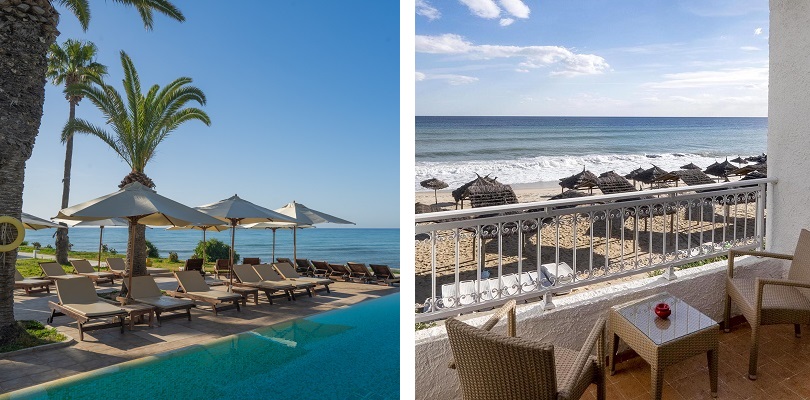 Novostar Sol Azur BEACH CONGRESS 4*