The Capital of Tunisia
The capital of Tunisia is a mix of Arabic and European styles, in which the most important sights of the country, the main seaport and the main industrial center of the whole state are concentrated. In this article you will find out why a trip to Tunis should become a part of your vacation. Stay tuned!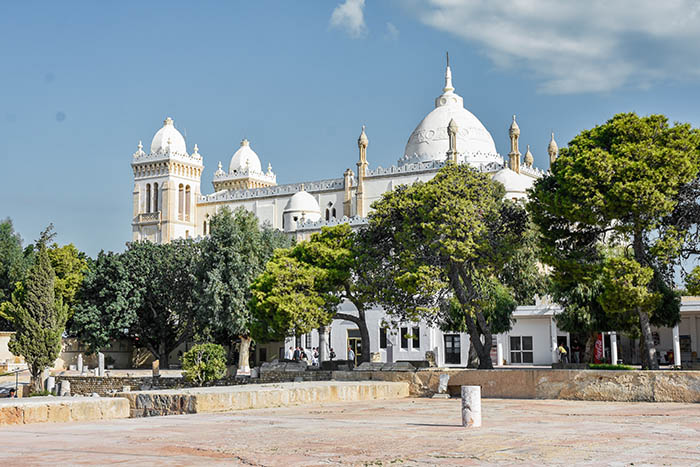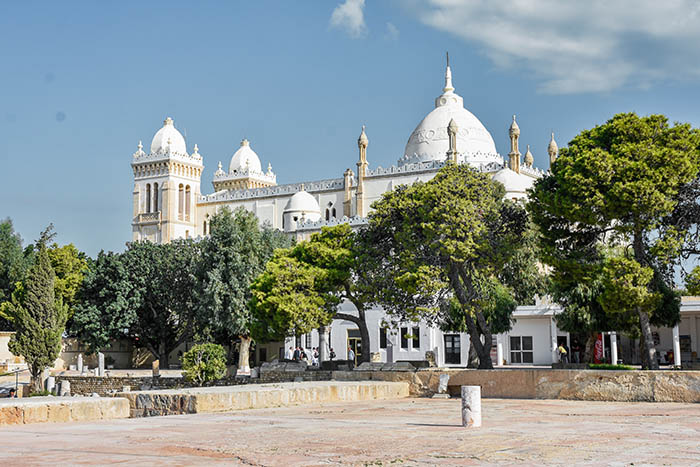 About the city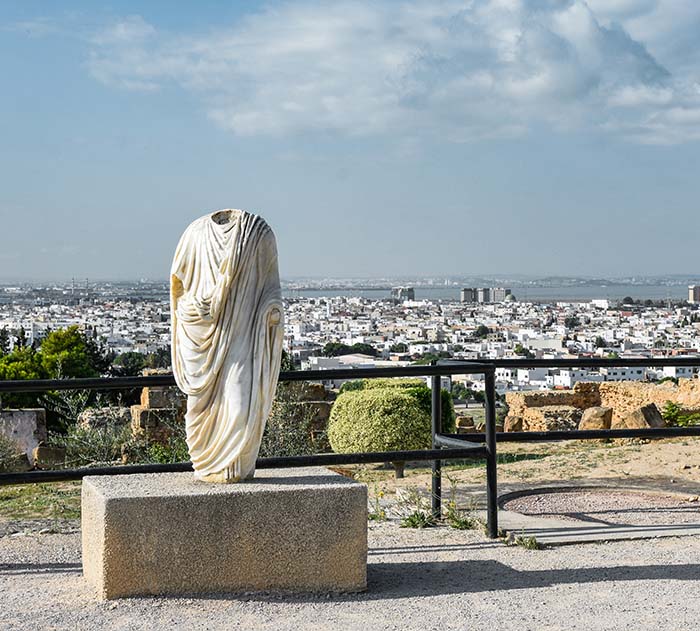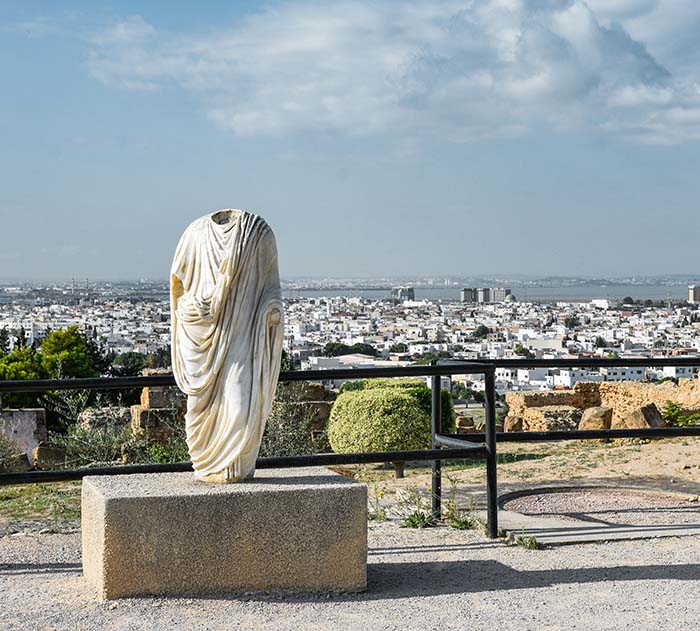 Tunis was officially given the status of capital in 1956. Tunis has gathered everything that makes it possible to call the city keeping up with the times: broad highways and ground transport, buildings of the largest European banks and international brands, football fields, cultural and shopping centers, a huge number of stylish establishments.
Where is Tunis located?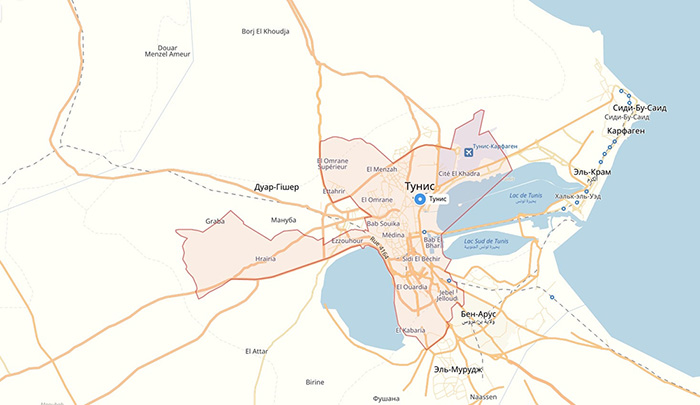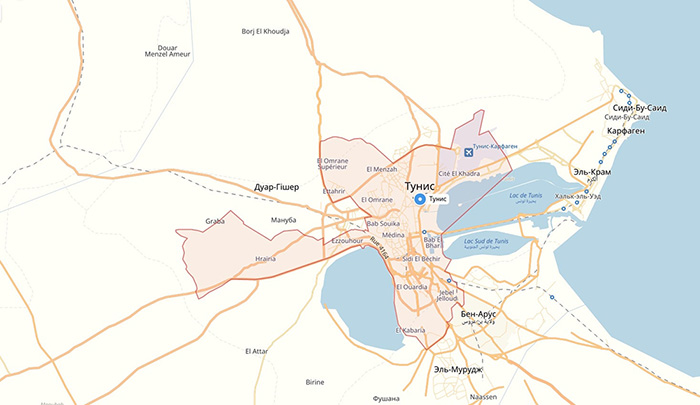 The city of Tunis is located in the northeastern part of the country on the coast of the Tunisian Gulf of the Mediterranean Sea. The city also includes tourist suburbs — Carthage, La Marsa, Sidi Bou Said and others. According to the latest official data, the population of the largest city in the country is 700 thousand people, or about 2 million people, including suburbs.
Tunis-Carthage Airport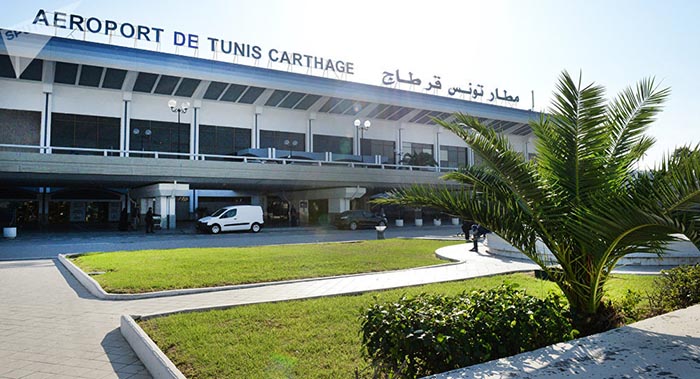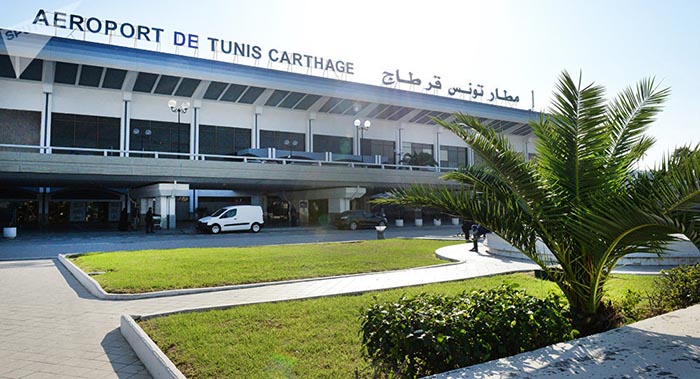 Tunis-Carthage International Airport is located 8 km away from the city center. Most of the regular flights from Asia, Europe, Africa, etc. land here. Also it will take you an hour to go by plane from Tunis-Carthage Airport to the island of Djerba.
Other airports of the country are mostly used to operate charter flights during the summer.
Transportation to get to Tunis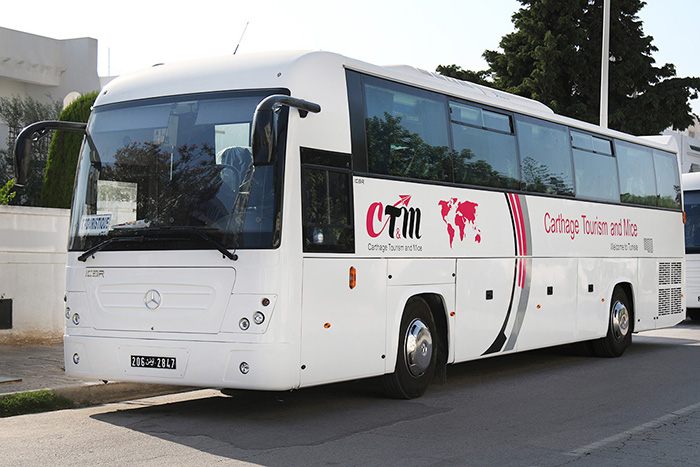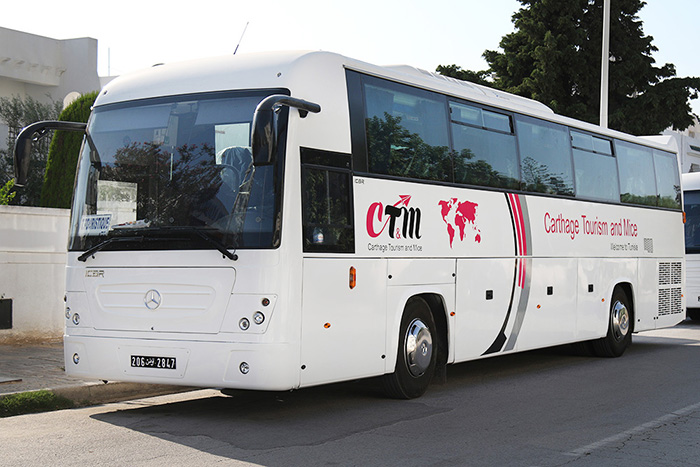 Most often people who are on holidays in resort cities of the country visit Tunis as a part of an excursion organized by tour-operators. This mode of travelling is the most effective because with the help of the tourist guide you will not only see the landmarks of the capital with your own eyes but also learn about the history of places and monuments and feel the atmosphere of modern Tunis.
Public transport that you can use to get to Tunis
Despite numerous recommendations made by tour operators, hotel staff and residents of the country not to leave resorts by public transport, tourists often ignore them and embark on adventures. Let's consider several types of public transport by which you can get to Tunisа.
Intercity minibus (louage)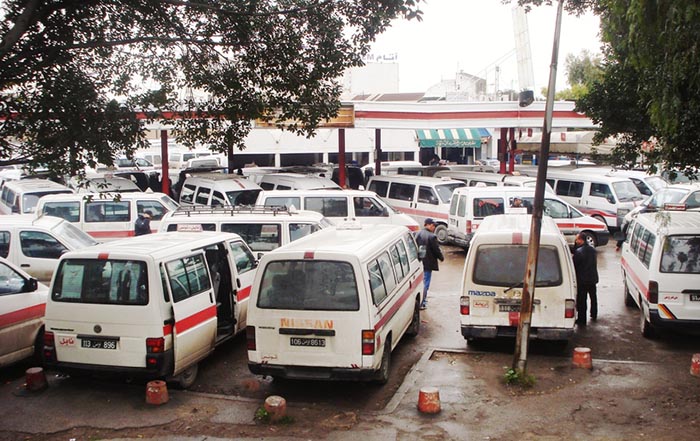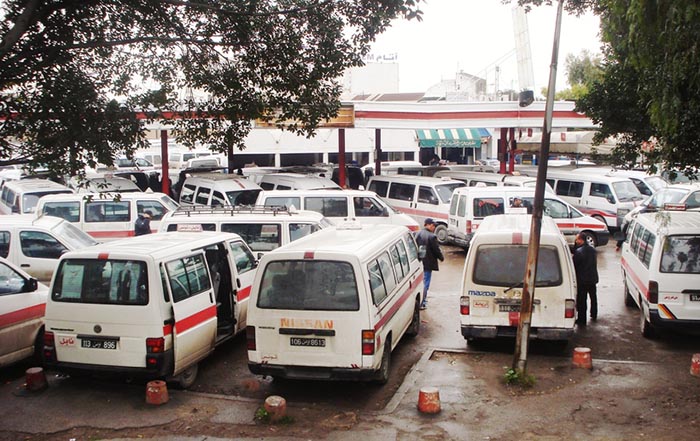 Louage (the name of the means of transportation) goes to the capital from almost all the resort towns of Tunisia. Let's consider Hammamet as an example: it takes 45 minutes to get to Tunis, the price in 2020 was 4,5 dinars. Disadvantages of this mode of transport: drivers don't speak English, the buses are usually rather old and uncomfortable, adults and children who are especially susceptible to rough roads can suffer from motion sickness.
Intercity buses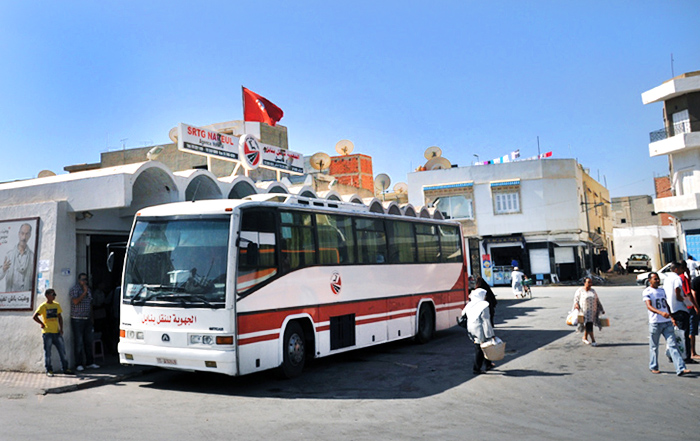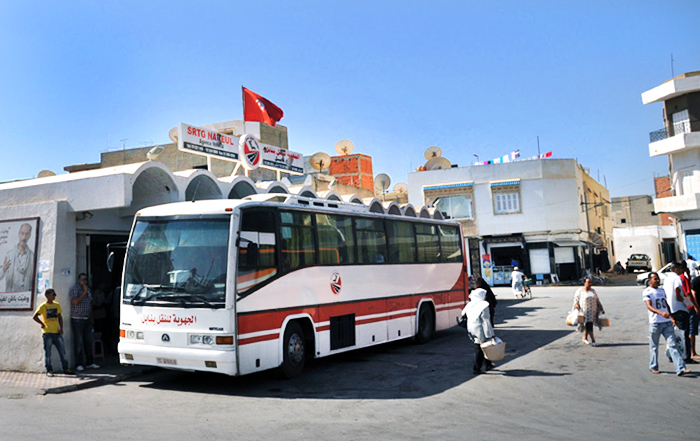 Here as in a louage it's impossible to travel while standing. There are exactly as many tickets for sale as there are seats installed. Traveling by such buses is more comfortable for foreigners. Let's consider the Hammamet fares again: the ticket price as of 2020 is 4 dinars, it takes 1 hour to get to Tunis.
Travelling around Tunis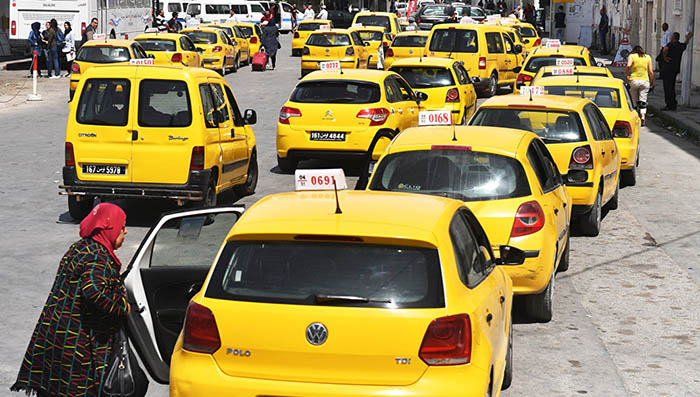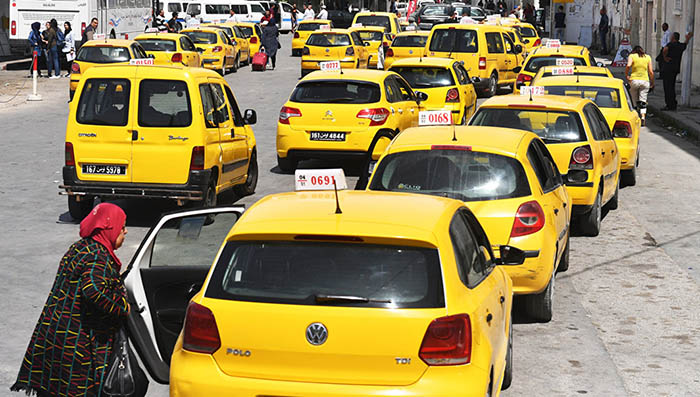 The first and the main means of travelling around the city is a yellow taxi, you can hail it by waving your hand almost at any place of the city. Each car is equipped with a taximeter with two tariffs: a daytime tariff and a nighttime one. The night tariff applies between 21:00 and 05:00, and the rate increases 1,5 times. The restriction of such trips is a ban on leaving the city. You can go to other cities from the intercity bus station.
How much time does it take to get to Tunis from other cities?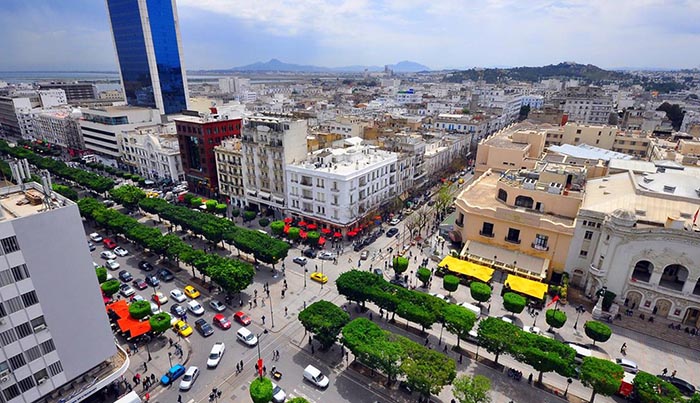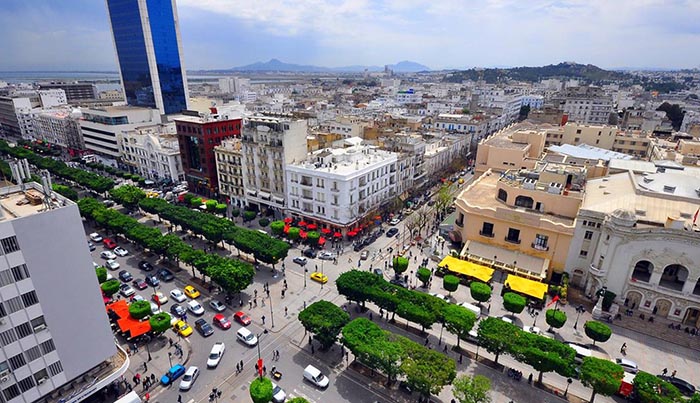 The capital is the most populous city in the country. In addition to local residents, nonresident citizens come here every day to work/ study or receive papers, as well as tourists (independently or as part of an excursion) in order to explore the city.
How much time it takes to get to Tunis by louage/ bus:
• from Hammamet ≈ 45 minutes;
• from Sousse ≈ 2 hours 30 minutes;
• from Monastir ≈ 3 hours 15 minutes.
Climate in Tunis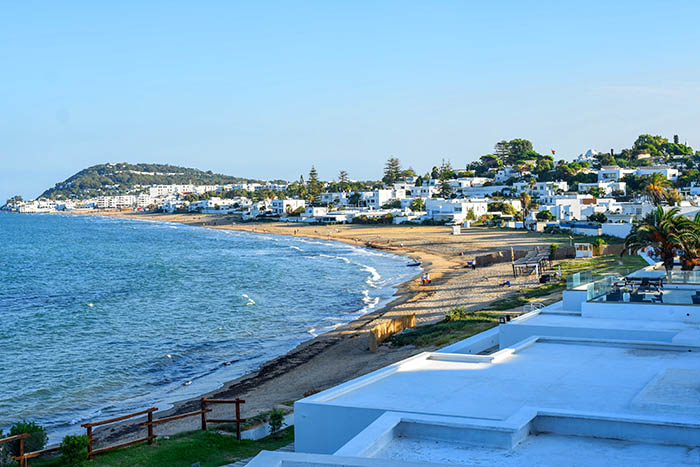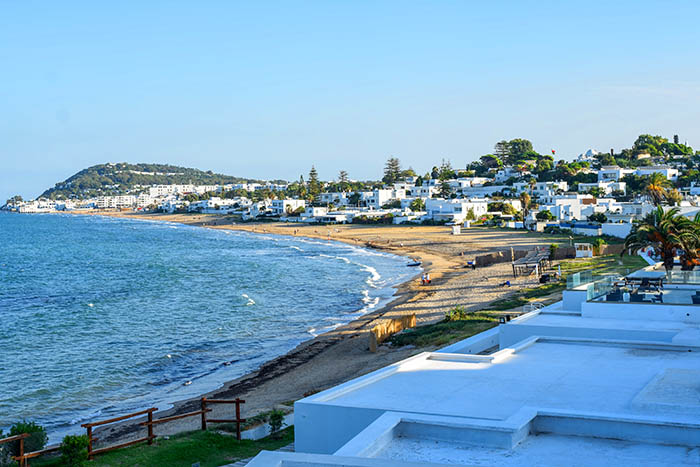 Climate here as in the whole country is characterized by hot summer and mild, rather wet winter. In summer in the central part of the city there is terrible heat as the sea is not in the walking distance. The average daytime high in June is 29°C, which may fall to 19°C at night, while the temperature of the sea water is 22°C. The temperature significantly increases in July: 30°C during the day, 21-22°C in the evening, the water is 25°C. August is perfect for the fans of burning heat: the temperature rises up to 33-34°C in the daytime, goes down to 26°C after the sunset, and the sea water warms up to 27-28°C.
Autumn is one of the best periods for holidays: the intense heat subsides, the water in the sea is super warm and tourists are getting fewer every week. The statistics for autumn months is the following:
• September: day – 29-30ºC/ night – 22-23ºC, the sea water – 25ºC;
• October: 25-26/ 20-21, 23-24;
• November: 23-24/ 18-19, 19-20.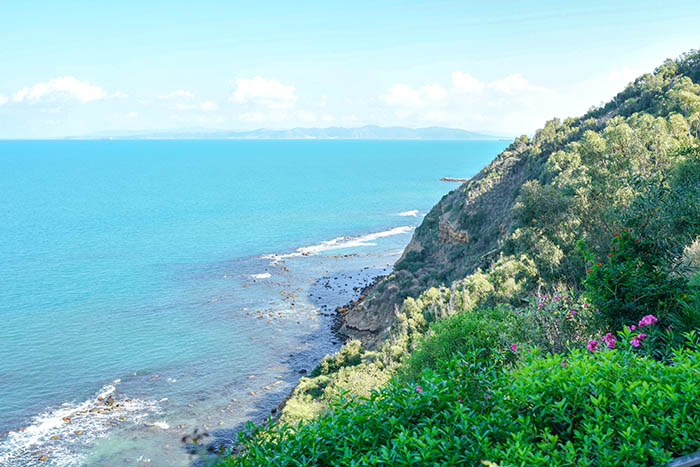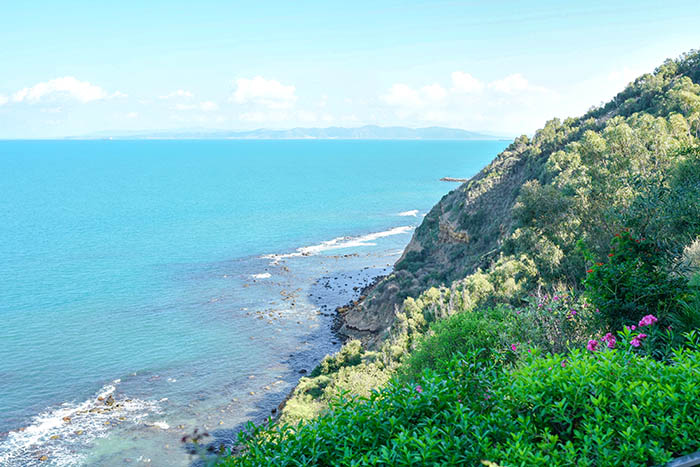 Winter is the time for long strolls and harvesting citrus fruits. Winter temperatures are:
• December: 16-17/8-10, 12;
• January: 14-16/7-8, 13;
• February: 16-17/8-9, 12.
In spring Tunis is in bloom, the weather at this time is suitable for sunbathing and, on the sunniest days, it invites you to open the bathing season!
• March: 18-19/9-11, 14.
• April: 20-22/11-13, 17.
• May: 23-24/14-16, 22.
Must see in Tunis
Tunis has an abundance of landmarks and tourist attractions. Trips to the capital are the most common excursions of all routes offered by tour operators. So, where should you go?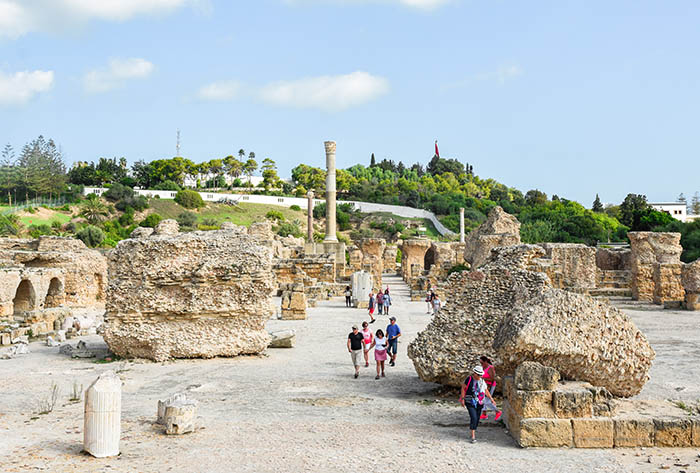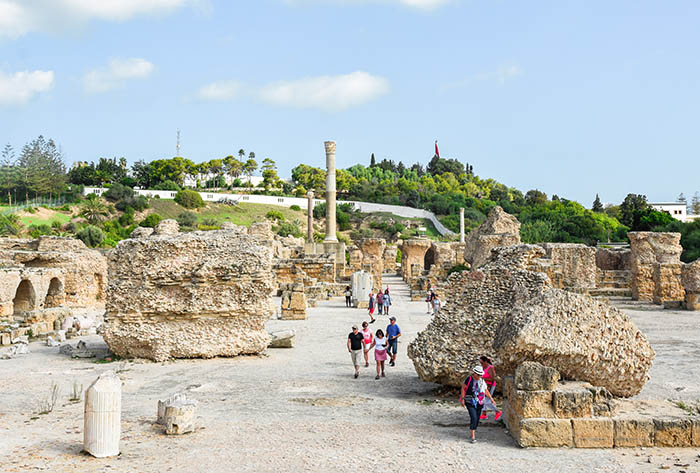 Avenue Habib Bourgiba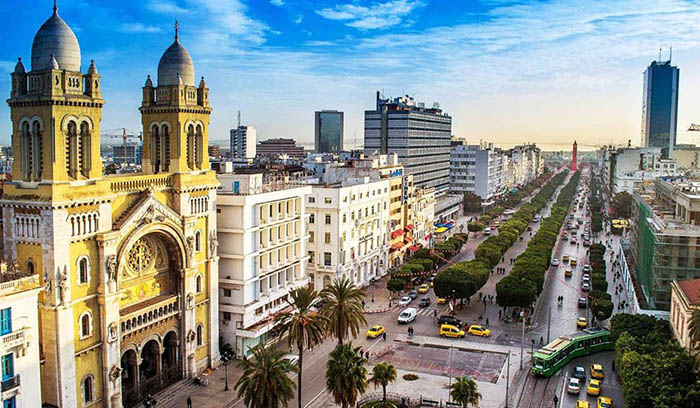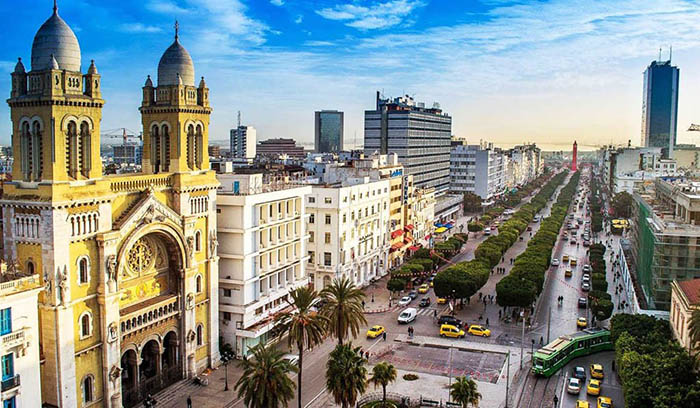 Habib Bourguiba Avenue is the main street of the city, with green trees and authentic details. Here, on the main avenue of the city, there are hotels, exchange offices, boutiques of various famous brands (Zara, Oysho, Pull and Bear, Bershka and so on), pastry shops and restaurants. The avenue is designed in the French style, and people coming here for the first time call it a European touch in the Muslim world. The most famous location is the clock tower in the heart of the avenue, called «Big Ben».
Carthage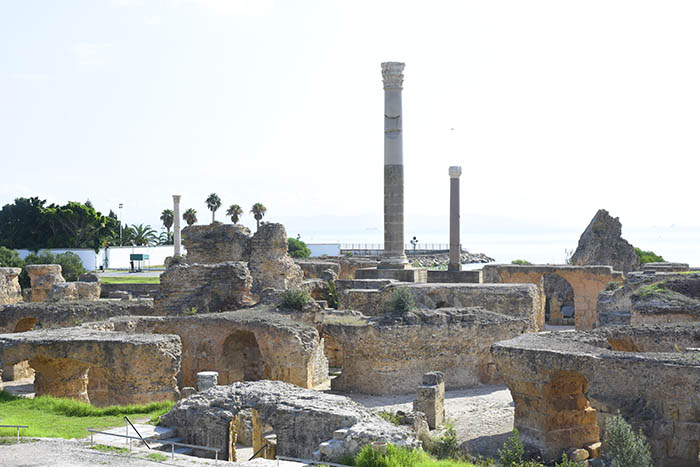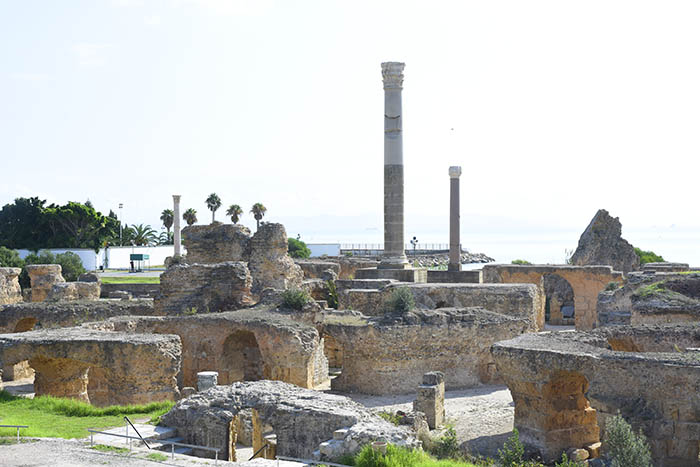 Carthage is a legendary archaeological park, included in the UNESCO World Heritage Sites list. This ancient city has experienced a variety of periods — prosperity, destruction, rebirth and decline. For a long time its ruins were hidden underground, but in the second half of the nineteenth century they began to be carefully excavated and shown to the world. This is really one of the primary attractions of the country, so people from all over the world gather here every year. Must see: the Baths of Antoninus and Birsa Hill, which is the foundation point of the city.
Sidi Bou Said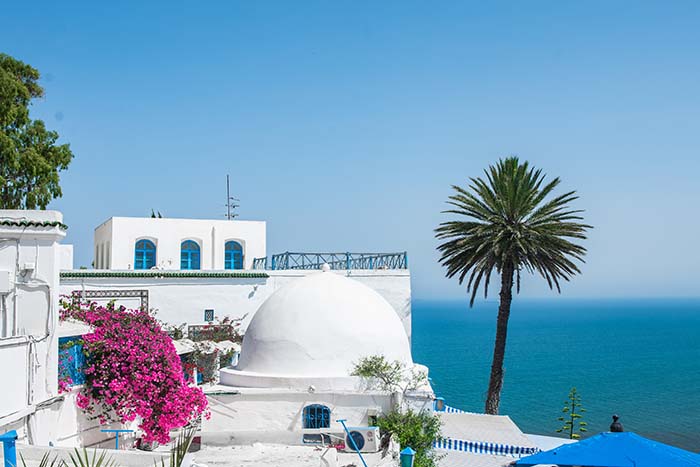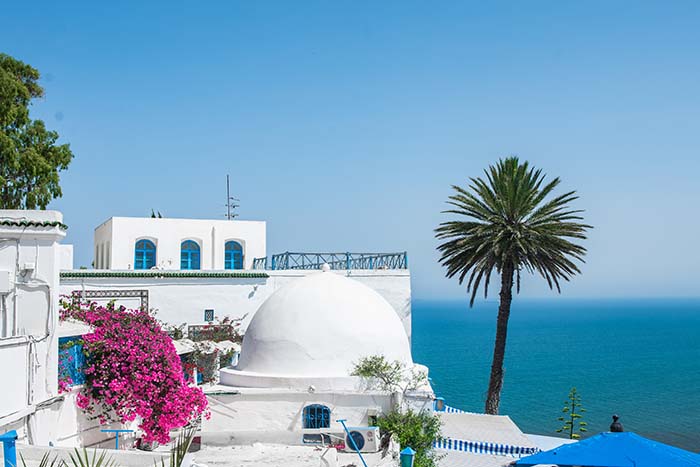 Sidi Bou Said is a picturesque town located on the northern coast of Tunisia with an endless scattering of small white (like gingerbread) houses with traditional blue shutters and gates. The town is located near the archaeological park of Carthage. Sidi Bou Said has many names, and it was nicknamed a paradise for all lovers for its warm romantic atmosphere. You definitely should visit a cafe towering over the city to try the national Tunisian tea with nuts. And also eat the freshest bambalouni with delicious chocolate paste to feel like a real Tunisian.
Bardo National Museum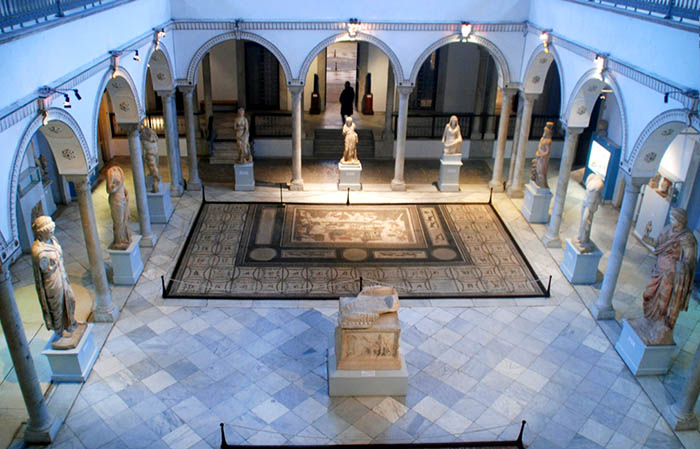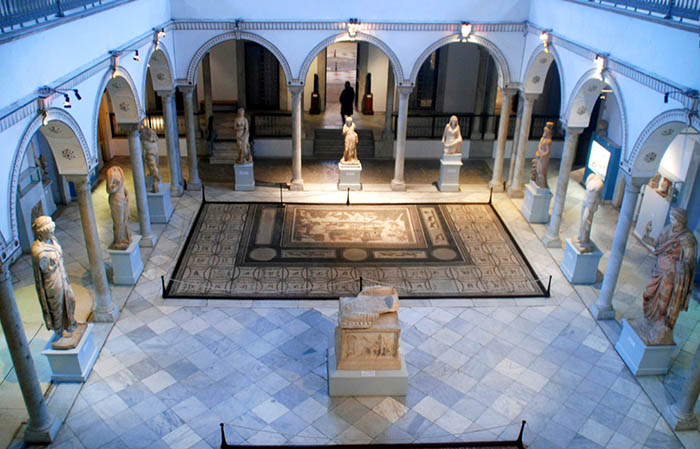 One of the trademarks of the city is the famous Bardo Museum, which displays a rich collection of well-preserved mosaics of the Roman and Byzantine periods, as well as a huge collection of Roman statues – there are 50 halls and galleries. Before arriving in Tunisia, tourists often do not know about such a museum, but after the visit they boldly say: the Bardo is one of the most beautiful sights of Tunisia, which is worth spending some time of your vacation.
La Marsa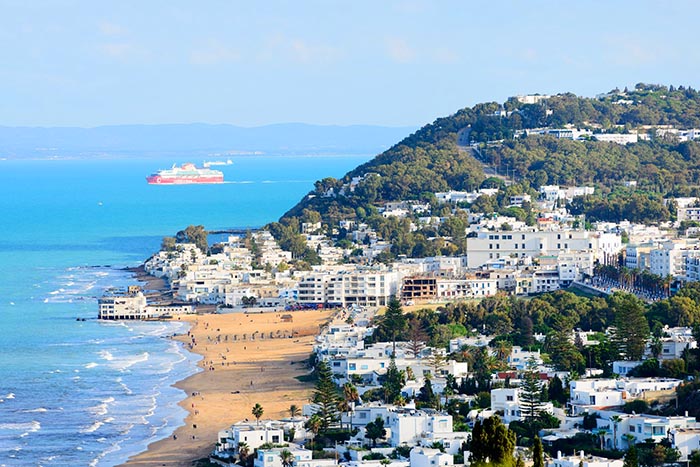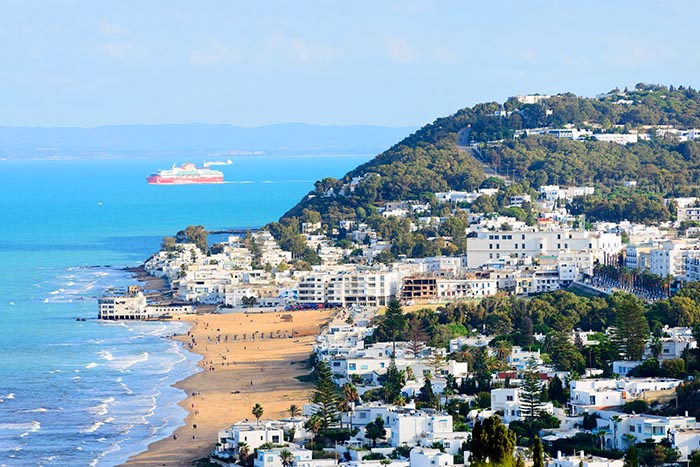 La Marsa is a suburb of Tunis. The area is famous for its unique embankment, where millions of photos were taken for Instagram profiles of tourists from all over the world, as well as for good beaches with clear sea water and snow-white sand. There is a supermarket, a huge number of ice cream shops, a well-known fast food restaurant «KFC», a famous hookah bar towering several meters above the suburb, allowing you to enjoy a stunning panoramic view of the Mediterranean Sea.
How to have fun in Tunis
The list of places where you can enjoy the cultural life in Tunis you can read in the previous paragraphs. It will be no less interesting to find out the list of locations that you should visit if you are a lover of shopping and delicious food.
Malls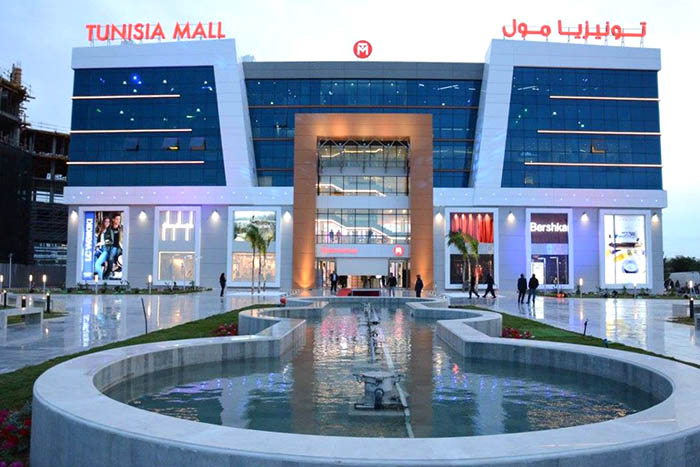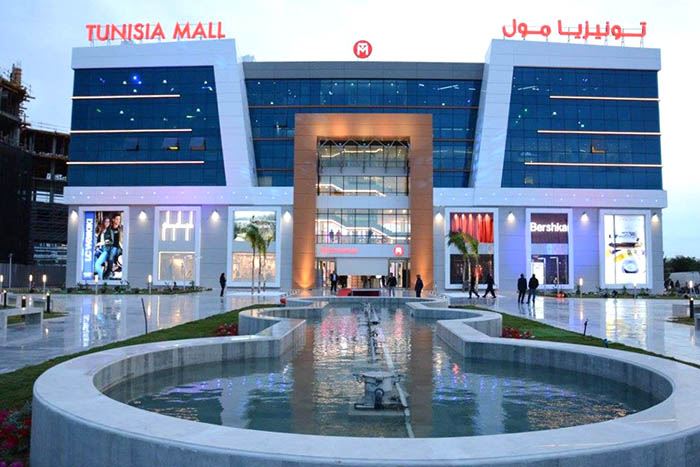 In addition to supermarkets «General», «Carrefour» and «Monaprix», which offer a wide range of food products, there are large shopping complexes in the capital: «Tunisia Mall 1», «Tunisia Mall 2», «Azur City».
The first two malls are located next to each other in the Lac 2 area, where we strongly recommend getting to by taxi with a taximeter. Travelling from the main street to the mall by taxi costs about 10 dinars. «Azur City» shopping center is located at the entrance to Tunis.
As all shopping complexes, malls have food courts where you can find local and international coffee shops and pizzerias as well as lots of Tunisian and European brands of clothes and accessories.
Tunis Medina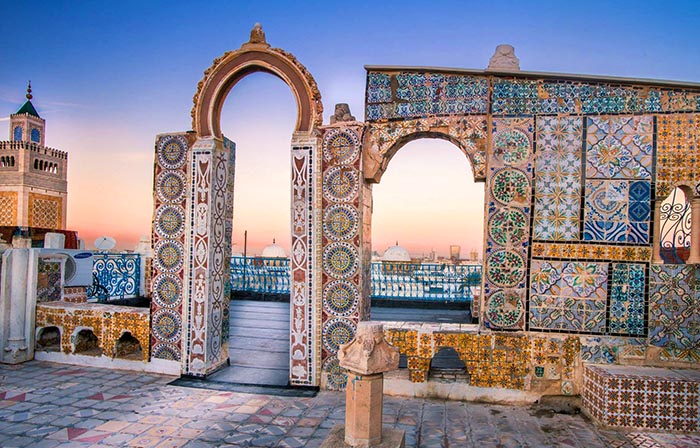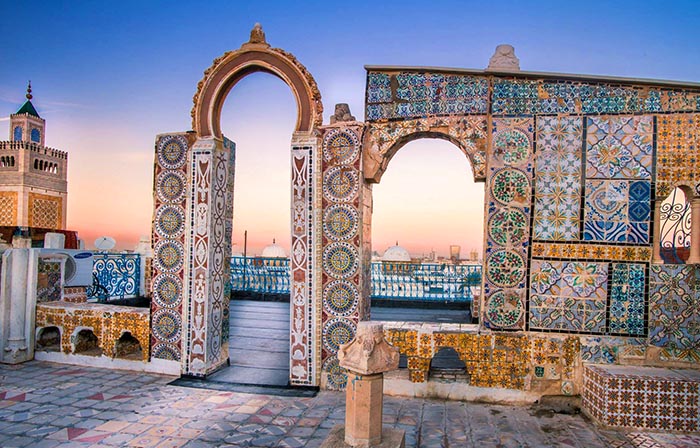 The medina of Tunis is an ancient bazaar city, protected along its perimeter by a fortress wall. In all the cities of Tunisia there is a medina, but it is really special in Tunis and here are three facts about it:
• first, Tunis medina is included in the UNESCO World Heritage Sites list because of several hundred historical monuments located there;
• second, the medina has a round shape. This fact is really unique as a classical old city usually has a rectangular or square shape;
• it features a riot of color and different architectural styles, preserved here after refugees and settlers from Andalusia (Spain), the Ottoman Empire (Turkey) and other countries.
What is better: a market or a store with fixed prices?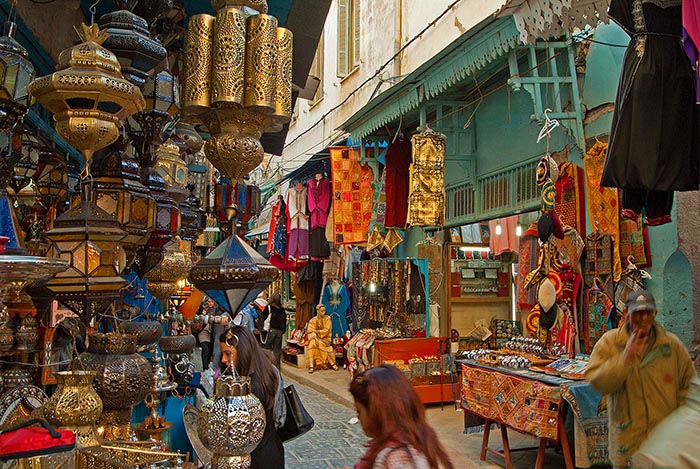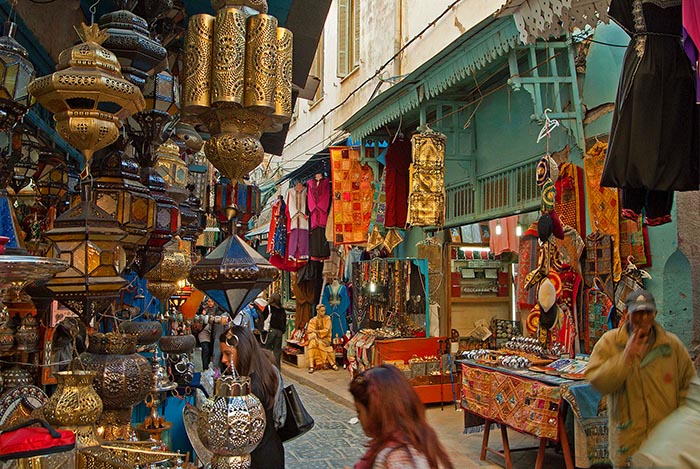 Everything depends on your preferences. If you like bargaining and each deal excites you a lot, you can't help but try your luck at the market. In this case, you will feel at ease and free. However, remember that these vendors are incredibly friendly, charming and will chat anyone up! Do not be surprised when, seemingly, having made a good deal at the market, you will stumble upon the same goods in a shop with fixed prices twice cheaper. This is a common practice.
If bargaining is a real torture for you and you are ready to agree on any price, just not to feel uncomfortable, we recommend you to do the shopping in malls, supermarkets and small souvenir shops, where the prices of the goods are indicated.
What you should try to eat in Tunisia
Probably the most pleasant way to get to know the country and its people is to taste the delicacies of local cuisine. In this case, tourists in Tunisia are incredibly lucky, because culinary traditions include the preferences of the indigenous population, «seasoned» with the gastronomic culture of Italy and France.
If you come to any restaurant in the capital, you will see that Tunisians are very conservative about the main national dishes and snacks. Olives, a cold salad of green peppers – «mechouia», chili pepper paste – «harissa» are served before meals. They serve harissa with olive oil and dip a slice of fresh French baguette in it. In spring, fresh fennel root vegetables – «besbes» –are very popular.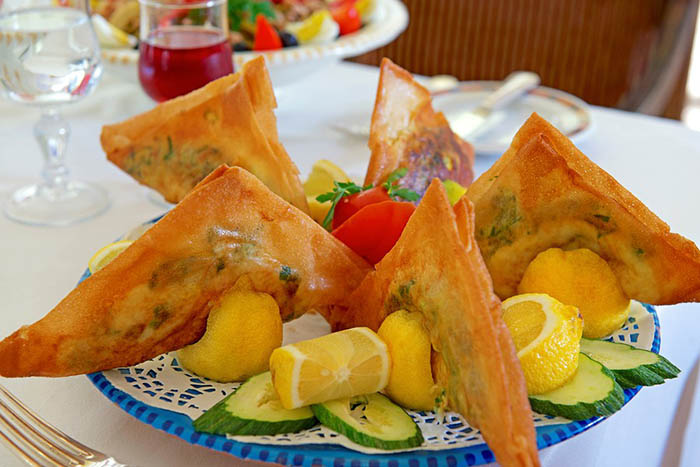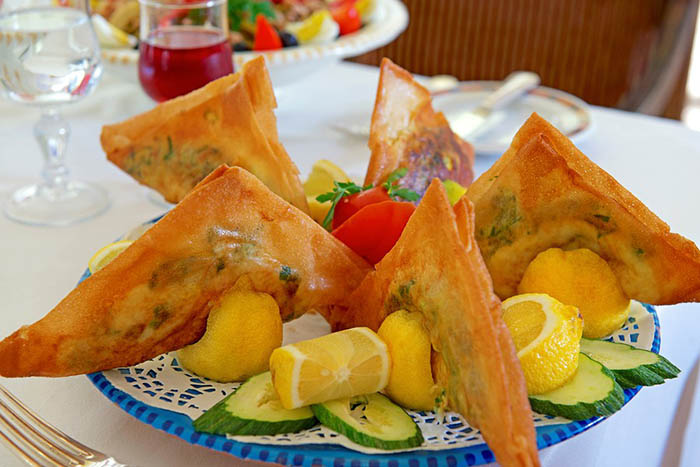 Tunisians' favorite hot snack is «brik», and the second beloved dish, which is prepared in each family according to its own special recipe, is «couscous». Dishes cooked in a spicy red sauce «camounia» and meat stewed in the oven – «koucha» are also popular.
In the menu of high-level expensive restaurants, you are unlikely to find Tunisian dishes, as the locals cook them at home. You can order a steak of fresh beef, grilled lamb ribs, Florentine chicken breast with spinach.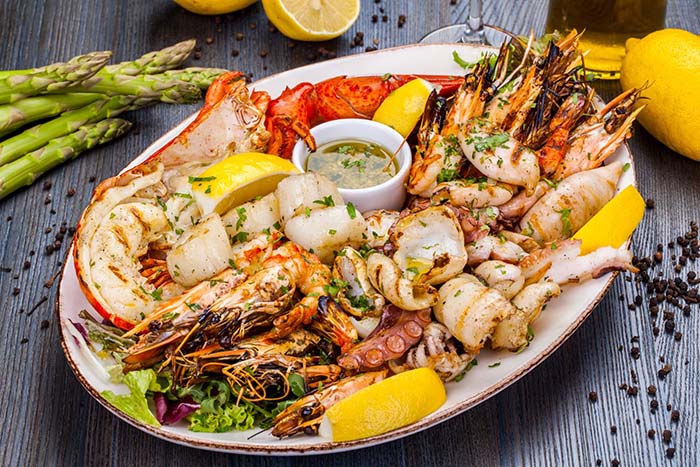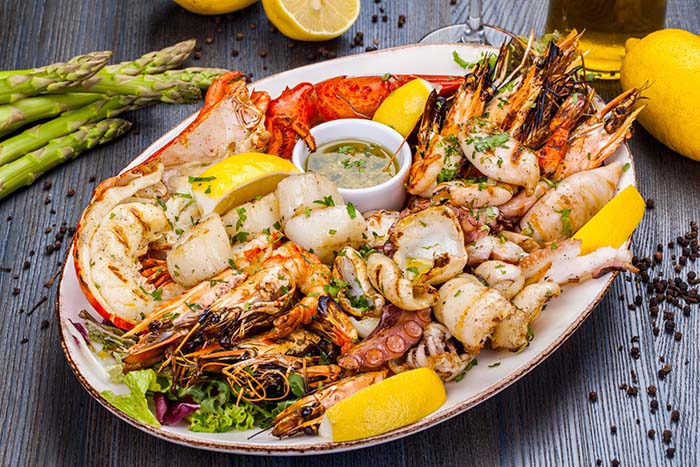 Do not forget about seafood, which the Mediterranean Sea is rich in. Gilt-head bream, sea bass, or tuna can be grilled or baked in salt. You can order lobster, cuttlefish, squid, mussels, octopus and oysters.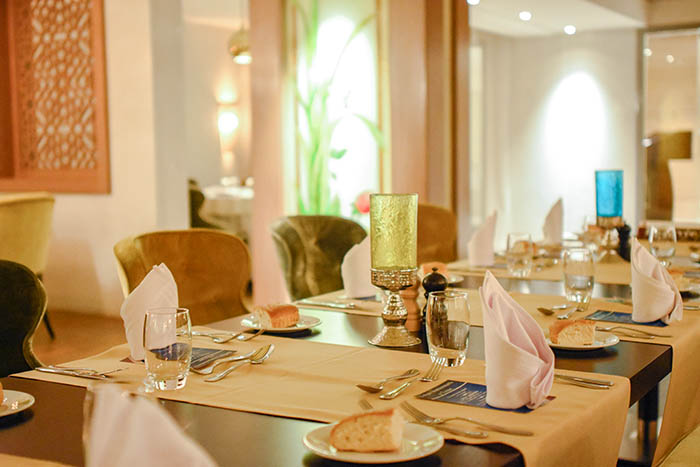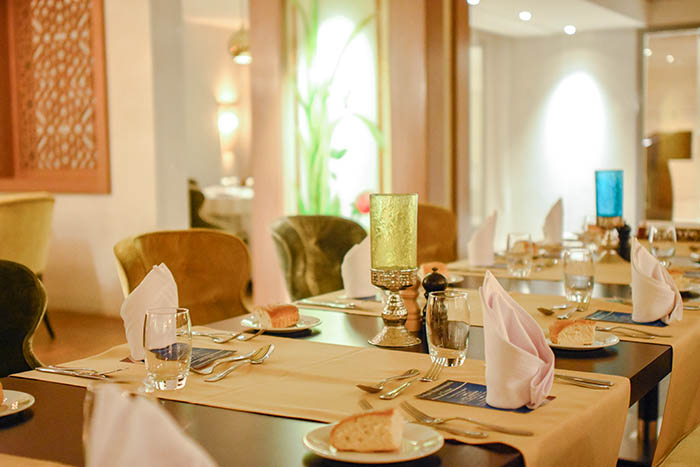 Also, in the capital of the country you will definitely find several nice places where you can celebrate a wedding anniversary, birthday, or just have a nice evening after leaving the hotel.
Precautions in Tunis
In the capital, as in the whole Tunisian republic, security is provided at the highest level. However, there are some tips that will protect you from possible sad losses.
Photo and video shooting
Usually, the right to any kind of shooting in museums and parks can be purchased for an additional fee. It is strictly forbidden to photograph airports, police posts and police officers, ministries and embassies, military facilities, people in military uniforms, praying. In case of violation of the ban, a smartphone or a digital flash card may be confiscated.
Be careful with your personal belongings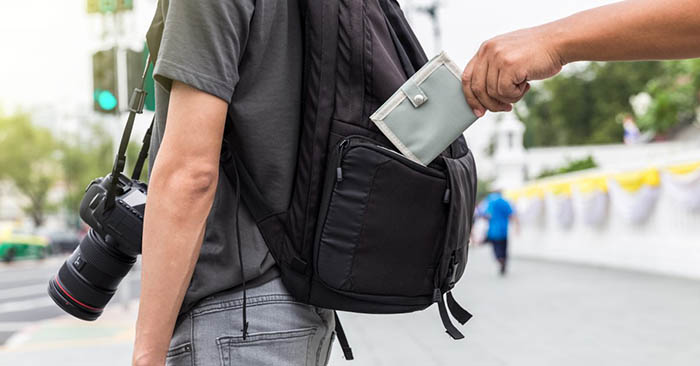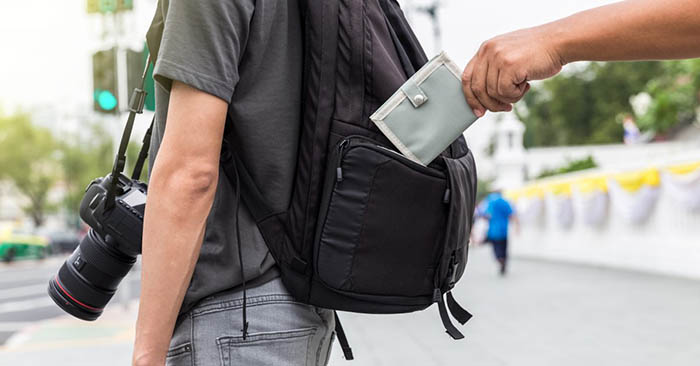 Pay attention to your belongings on any trips — whether it's an excursion or an independent trip. Be careful with wallets and smartphones, do not put them in external pockets and not closed bags, do not take documents with you while leaving a hotel.
Keep money in a safe box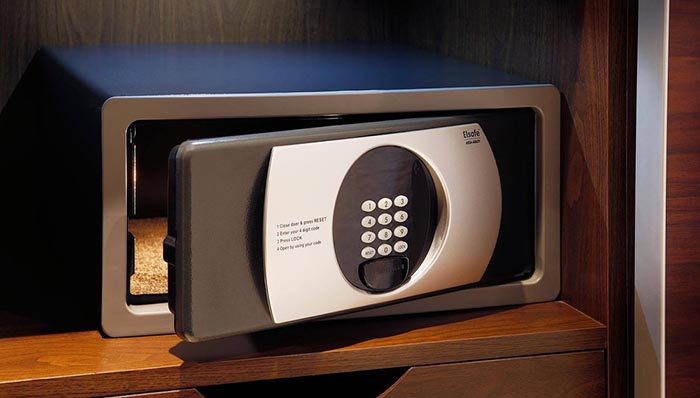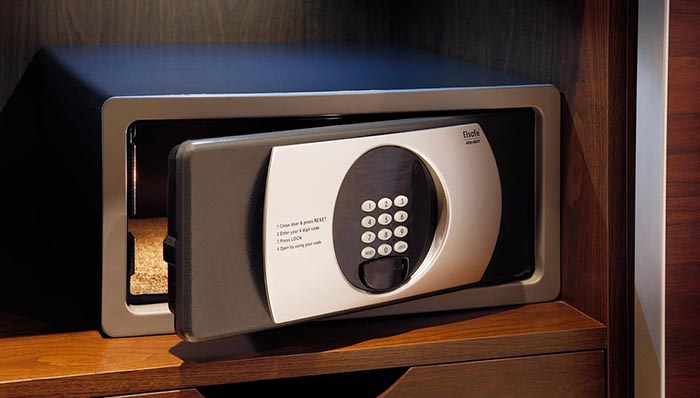 Do not travel with large sums of money. The best way to keep money is to rent an in-room safe or a safe box at the hotel reception.
What should you do if you have lost your passport in Tunisia?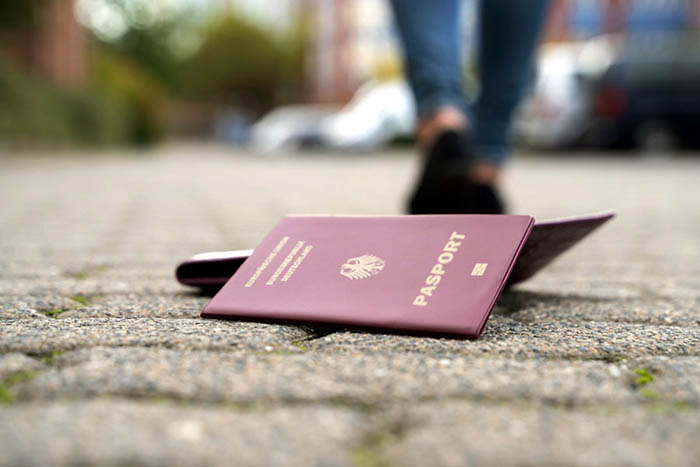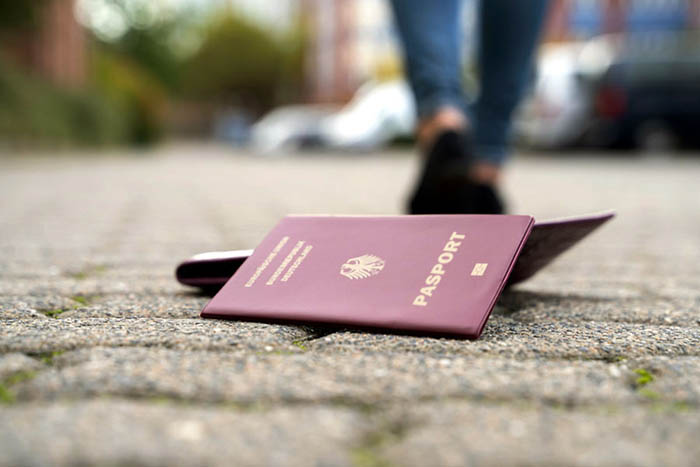 If you have lost your passport (or it has been stolen), try to contact your tour operator's representative immediately for further instructions. In order to obtain a permit to cross the border, a personal presence is required at the embassy of your country. Be sure to take a certificate of the loss of the document at the police station in advance, and also take your photos of the appropriate format.
Who should visit the capital?
The capital is a concentration of ancient sights and modernity. Tunis is highly recommended for people who would like to immerse themselves in the history and traditions of the host country. Tourist suburbs and shopping centers of the city deserve special attention.