Novastoria Family Restaurant: Delicious Food by Novostar Hotels
Do you know that now Novostar is not only hotels? Learn more about our new project Novastoria!
It's a family restaurant that specializes in Italian cuisine, though there are dishes from other European countries on the menu as well. Guests could try Novastoria cooks' creations during the opening ceremony which was held on July 28.
The event was accompanied by the live violin performance and modern music, there were elegant buffet meals. Free-and-easy, friendly and tasty, that's how the restaurant opening ceremony and the atmosphere of a new restaurant by Novostar can be described.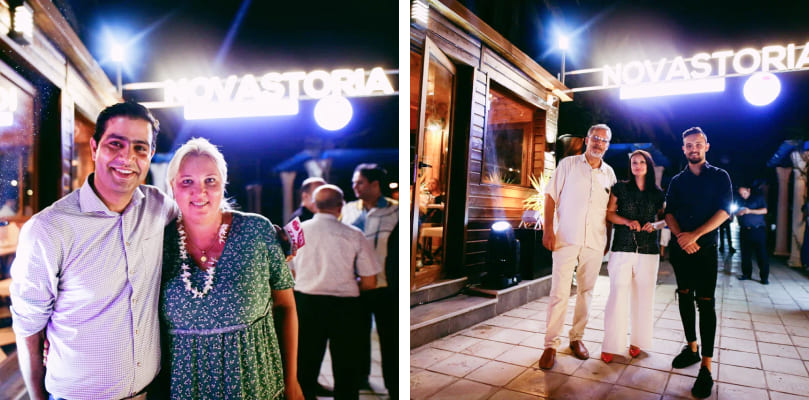 Do You Prefer Dining with a View or by a Fountain in the Garden?
Novastoria is located in Yasmine Hammamet tourist area, not far from a picturesque marina, a yacht port.
It's very cozy and home-like here, brand-new interior and exterior items make the place look even more charming and fresh. The restaurant features several dining rooms with different views: either over greenery or an artificial channel with moored boats and yachts. There are also some tables outside by a fountain which are especially popular in the evening when the heat subsides.
The neighbors of Novastoria are mostly establishments where you can have maybe just a cup of coffee. Not all the restaurants that served lunch and dinner managed to survive the years of the pandemic. Anyway, many people stay in All Inclusive Tunisian hotels and resorts, so they don't have to think about eating out and having something else than that very coffee…
However, Novastoria has some significant advantages. First of all, here you can taste dishes which you won't find neither in the hotel restaurant nor in other outside restaurants.
Signature Dishes from the Chef
An excellent chef with many years of experience works here. Before Novastoria he had been surprising with his skills the guests of one of the most popular Italian restaurants in Hammamet for many years.
The cooking virtuoso makes tagliatelle, gnocchi and ravioli by himself: he kneads the dough, adds special ingredients, and makes different fillings. Due to the lack of prepared ingredients, you'll have to wait for your order but it's really worth it. Freshly made pasta in Novastoria is a taste of Italy. Moreover, there are dishes with salmon on the menu, which is rather expensive in Tunisia, so you definitely won't be able to try them in a hotel or a bistro.
Novastoria offers its guests risotto, original salads, beef and poultry steaks, fish, as well as seafood dishes. There is an amazing pizza here, for example, with Roquefort cheese or tuna. And instead of bread there is fresh focaccia, Italian wheat tortillas, which are baked just before serving.
As for drinks, the guests of the restaurant especially like classic and strawberry non-alcoholic mojito and smoothies made of seasonal fruits.
What Is It Made of and How Much Does It Cost?
Any cook knows that a tasty dish can be prepared only of high-quality raw materials. Product quality is one of the key points that is paid special attention to in Novastoria. Here they deal only with reliable food suppliers and vendors with excellent reputation.
The best flour is bought from one distributor, cheeses – from the other. Only original Italian mascarpone is always chosen. One of the pasta types is cooked with pressed tuna caviar in a wax shell, this is an expensive delicacy that is not easy to find in Tunisia.
At the same time, the prices at Novastoria are very affordable even for Tunisia, a country with favorable prices for gastronomic pleasures. The average prices are as follows:
Norwegian salad – 18 TND;
spaghetti – from 24 to 32 TND;
steak with a side dish – 40 TND;
fish of the day, the gilt-head bream (dorada) or the sea bass – 24 TND;
pizza – from 12 to 22 TND;
tiramisu – 14 TND;
coffee – 5 TND.
* The exchange rate today is 1 EUR = 3.19 TND, 1 USD = 3.21 TND
Important Details: Openness, Cleanliness and Children
The kitchen is open in Novastoria. Watching the cooking process is already an integral part of the dining and favourite show of some regular guests of the restaurant. Moreover, it's well known that in restaurants with a closed kitchen there is a risk of unethical behavior of the staff. Here you can see the whole cooking process, and it's a symbol of openness, honesty and respect for customers.
Another detail. Cleaning in Tunisian eating establishments is often performed by the kitchen staff or waiters, and they aren't paid extra for it, so they do it rather carelessly. In Novastoria they are super responsible in terms of cleaning, there's an employee who is responsible for cleaning during the day, not only before and after the opening. Here they always make sure that the interior and household items are pleasant to look at and touch, because it's also an important part of the overall impressions of the restaurant. A special attention is paid to the bathrooms, which are not only well-equipped and decorated, but also spotlessly clean.
Going to the restaurant with children can hardly be called relaxing and very pleasing. That's why in Novastoria there's a children's corner with toys, cartoons shown on the TV, and a lovely animator-girl. While she's looking after children and keeping them busy, parents can enjoy the creations of the chef and pizzaiolo in a calm and relaxed way.
Gourmets' Reviews
Novastoria is a multilingual environment, guests can make orders in Tunisian, Arabic, French, English, and Italian, and be clearly understood.
The restaurant is open from 7:00 pm to midnight, Tues. – Sun. If you're going to have dinner here at the weekend and want to sit at a certain table, it's better to make seat reservations well in advance. You can do it via Novastoria's WhatsApp and Google business accounts or by contacting a hotel guide or a guest relation manager.
And a few words about the reviews of the new restaurant. French tourists who are reputed to be gourmets, were delighted with the meals and service, while the English said that the rice seemed to be a bit undercooked, they didn't quite like the al dente phase.
However, in general everyone notes that the meals in Novastoria are delicious! This fact makes the team members of Carthage Group and Novostar, who committed themselves heart and soul, professional skills and knowledge to the project. Respect for customers, attention to detail – here they try to take into account and avoid all the known pitfalls of eating establishments.
We sincerely wish Novastoria great success and invite you to have dinner at this wonderful place. See you in Tunisia, by the fountain? 😉