The beaches of all hotels located in the resort area of the city of Nabeul are heterogeneous, having both, pebble and sandy features, and that is a peculiarity of the location. The beaches of Novostar Khayam Garden and Novostar Budget Pyramides are not an exception. Partially, the beaches of these two hotels have a clean gentle entrance to the sea with a sandy bottom, but at the same time, there are areas that are the upper part of boulders, the surface is uneven, slippery. The length of the comfortable entrance to the water in relation to the total length of the beach in each of these hotels is 30%.
Novostar Khayam Garden and Novostar Budget Pyramides have sent requests to the municipality for cleaning the seabed. It is impossible to remove boulders from the water in a non-traumatic way, the only way is underwater blasting which is almost definitely will lead to the changes in the terrain of the bottom and shoreline and have negative consequences for the ichthyofauna.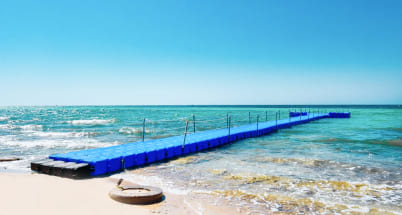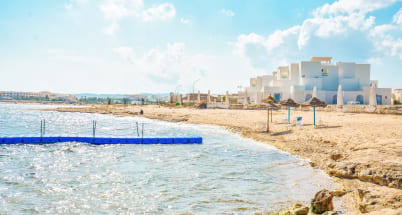 Taking into account the above-mentioned facts, the hotels received refusals of the municipality to allow to clean the coastline from boulders.
In order to increase the functionality of the beaches and deal with the problem of the heterogeneous seabed, Novostar has come up with a solution that delighted our guests: after the tide is out, from June to September we install a pontoon that turned entering the sea into sports entertainment. Guests are happy to dive from it into the sea as there is a considerable depth at the place where the bridge ends. But, of course, you can go down into the water using a ladder. The guaranteed period of operation of the pontoon is from June to September inclusive.
---