Novostar Hotels allows to be accommodated with pets only in two hotels of the chain: Club Novostar Sol Azur Beach Congress 4* and Novostar Bel Azur Thalassa & Bungalows 4*.
Requirements for accommodation with pets:
Cats and dogs up to 5 kg are allowed;
A pet must have an international veterinary passport and a vaccination certificate;
Before booking a hotel, the owner of an animal is obliged to inform the tour operator about the intention to stay at the hotel with a pet, the tour operator, in turn, must receive confirmation from the hotel and inform an airline;
The hotel reserves the right to determine a certain room that is suitable for a stay with an animal.
Responsible pet ownership:
Guests should have special carriers and mats for their pets, as well as all the necessary accessories for pet care;
It is strictly prohibited to walk the pets on children's playground, as well as near the playground and other public areas – the beach, terraces of bars and restaurants;
The owner of a pet is obliged to follow the established norms of order and cleanliness in the hotel and clean the lawn from waste products;
Guests should make sure that their pet is not in the room during cleaning or some other work performed by the hotel staff;
Guests should immediately inform the hotel administration if the pet has left the room on its own, it is unattended, and its location is unknown;
The owner of a pet takes full responsibility for the care of the animal during the stay at the hotel;
The pet owner undertakes to pay a fine established by the hotel administration for any damage to property in the room or hotel;
It is allowed to be accommodated only with one pet in the room.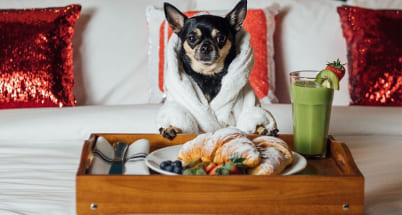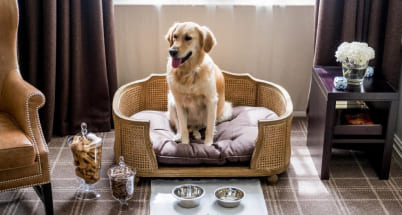 Restrictions set by the hotel administration:
Pets are not allowed in the Thalasso Center, mini-club, on the children's playground, and all other public areas located indoors, as well as outdoors: reception hall, bars, restaurants, including their outdoor terraces, the beach;
Swimming in the pools or in the sea on the hotel beach is not allowed;
It is not allowed to use towels and bed linen for pet care;
To use the hotel dishes for feeding animals is strictly prohibited.
The hotel reserves the right to refuse to accommodate guests with pets in the following cases:
Violation of the residence rules;
Aggressive or deviant behavior of the pet.
---