Traditionally all hotels of old construction in Tunisia have rooms of a small area. In part, this is the legacy of the French protectorate, because French luxury is for cinema and advertising, in fact, the French are more than rational and, first of all, save space. Even if the hotels of the old construction are subsequently undergoing major repairs, but without redevelopment of residential premises, the room area remains small.
Rooms feature certain square footage and equipment, based on which each hotel determines the standard of accommodation that must necessarily comply with the official norms regulating the processes in hotels in the Tunisian Republic. Maximum occupancy in one room in Novostar hotels is 4 people.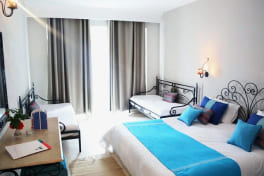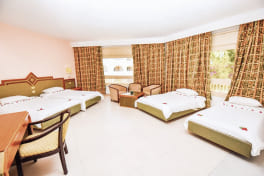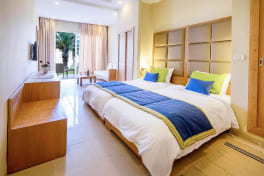 Spacious rooms or multi-bedrooms rooms for large families or a group of friends are a rarity in Tunisia.
As a rule, Tunisian hotels do not have such rooms, or their number is insignificant — 2-3% of the total number of rooms in the hotel. Novostar has only one hotel — Novostar Budget Pyramides Club & Spa 3*– that features two- and even three-bedroom rooms for comfortable accommodation of 6 people, and the number of such rooms is enormous — there are 60 rooms of this kind in the hotel. In all other Novostar hotels the maximum number of guests with an allocated bed in one room is 4 people.
---