Novostar Bel Azur under the Professional's Gaze
We continue posting first-person article series on holidays in Tunisia. The author is a travel & tourism professional who has spent her vacation at places which she had visited a thousand times on familiarization trips.
Learn about the first-hand experience of staying in Novostar Bel Azur Thalassa & Bungalows 4* from one of the top managers in the International group of companies Carthage Group that has been providing full ground handling services for companies and tourists in Tunisia, the UAE, Egypt and Tanzania for many years.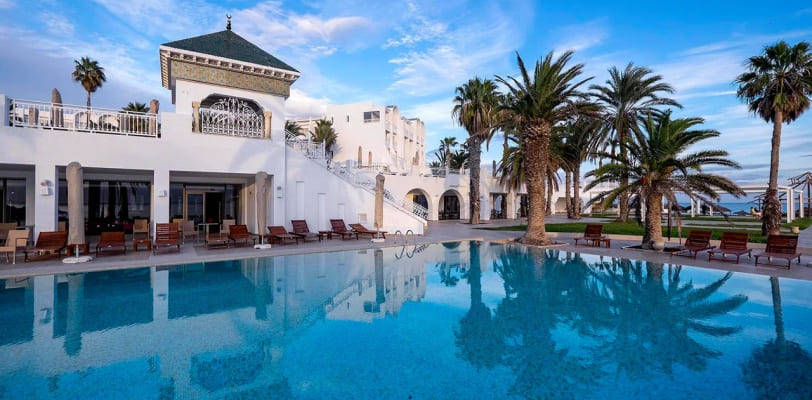 Feedback Always Matters
Novostar Bel Azur Thalassa & Bungalows 4* is one of my favourite hotels, I stay there quite often. Last year I stayed in the hotel in May and June with three groups of travel agents during their fam trip, and then I came back again in October. Personally, it always feels home-like, comfortable and cozy. Sometimes when I come across some negative reviews about this great hotel which are rarely but still written by tourists in social media, I get really upset.
I know very well from my professional experience that only one guest out of ten who have enjoyed their stay, is likely to write a review, and, on the contrary, most of those whose expectations haven't been met, will certainly give their feedback. Nevertheless, I was a bit worried.
The reason why I was nervous is that it was not an ordinary trip to my favourite place where I would feel good in any case. This time my family also stayed in the hotel on my advice. I recommended them Novostar Bel Azur Thalassa & Bungalows 4*, firstly, to change the place, and secondly, what's the most important, to have a family celebration there. I was worried if my loved ones would like the hotel or not.
Following my advice, my daughter and her husband booked a room. But right before the trip, my son-in-law suddenly started reading reviews on the Web… I didn't try to make him change his opinion. It was the task of Novostar Bel Azur Thalassa & Bungalows 4* itself.
And My Favourite Hotel Didn't Fail!
Comfort and care were awaiting us the minute we arrived. We were immediately invited to have lunch in the main restaurant. Although lunch was in full swing, there was no crowd and queues around buffet tables, which are vividly described on social media.
By the way, as for the restaurant, I can't help but mention a fascinating variety of food for any taste. Not all the five-star hotels can compete with our four-star one in terms of a wide range of food.
We were accommodated in clean rooms which were fully equipped according to the number of guests and I took my family on a tour of the hotel area. It's impossible to describe the beauty of the beaches and the amazing colour of the sea. I'm not even going to try to describe the views, I'd better share some photos.
There's an important detail. Despite the fact that the hotel was fully booked, as we stayed in the first half of August which is truly a high season, there was no problem with the availability of sunbeds by the pool and on the beach. However, "no empty sunbeds" is one of the nightmares mentioned in reviews, so don't believe all the negative things that you read on the Internet.
Work, Leisure, Activities
If you have to, you can work in Novostar Bel Azur Thalassa & Bungalows 4* as well because there is good Wi-Fi everywhere: in the room, on the balcony, or in the lobby bar with a cup of coffee.
The hotel is also suitable for all kinds of travelers. Those who prefer a calm stay can relax on the beach. The ones who like active leisure spend more time by the pool with the animation team. Those smiling friendly guys can put any tourist in a good mood. Lively mini discos, show time for adults and sport activities always bring together guests of all ages.
The highlight of our trip was a family celebration. A birthday which we celebrated in the Berbere a la carte restaurant. A beautifully laid table by the sea, flowers, delicious food, and a birthday cake, whose presentation was accompanied by the famous Happy Birthday to You song, gave us a feeling of pure magic.
And again I'm not going to look for words to describe my emotions, the celebration was really great, and here are some photos.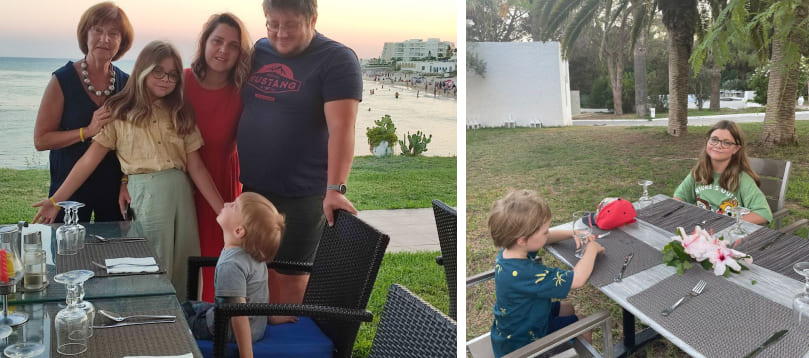 Family Verdict
Before leaving, we managed to visit the villa Dar Sebastien, which my son-in-law read many interesting facts about. Musicians, dancers, various performers, actors, singers and directors have been coming to Hammamet for many years to participate in the festival of music and art, called The Hammamet International Festival. And the prices for plays and performances are really affordable.
Moreover, there's another great advantage which is a breathtaking panoramic sea view that the audience can admire from the upper seats of the amphitheater. In short, we were very impressed by the villa. We didn't manage to visit only the center of Hammamet and its medina.
To sum up, there was no skepticism left, all the members of my family were fascinated by Novostar Bel Azur Thalassa & Bungalows 4* which is now not only my but our favourite hotel. So, my family verdict is "If we want to stay in a hotel, we go only to Novostar Bel Azur 4*"!
This is an emotional story with lots of useful information for those, who have already been to Novostar Bel Azur Thalassa & Bungalows 4* and love it, and those who are just thinking about spending a holiday there.
We hope that you haven't missed the previous first-person article about the experience of living in Novostar Apart Monte Carlo in Sousse.