10 Years Anniversary: Happy Birthday, Novostar Hotels!
Today Novostar Hotels celebrates its 10th anniversary! We're absolutely sure that this day is important not just for the staff of our hotels but for our guests as well, many of whom come back to Tunisia again and again. Dear friends, share in the celebration with us!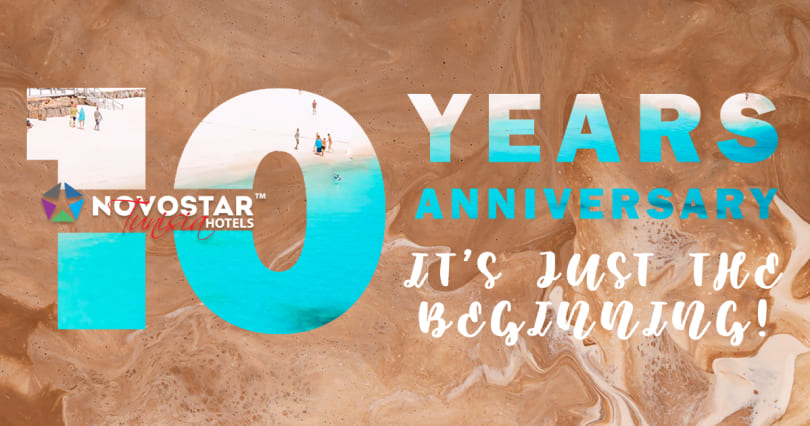 The story of our hotel chain started in June 2013 when our first a small 179 room-hotel was opened. Today the brand Novostar Hotels is represented by six big hotels and apartments which are located on the most popular Tunisian resorts, Hammamet, Nabeul and Sousse.
However, location is definitely not the only thing that Novostar hotels can be proud of. The hotels have clean and cozy rooms, well-groomed green areas, creative entertaining programs for adults and children, and delicious food, cooked with much love by professional cooks, and our grateful guests always point these things out in their reviews.
Three Novostar hotels have recently been awarded Travelers' Choice from the world's largest travel guidance platform TripAdvisor. This prestigious award is a kind of a 'quality mark' which is given to hotels on the basis of millions of reviews and opinions from travelers. And it's way not the only award that we've received!
We are growing, improving our facilities and amenities, so today Novostar Hotels has all the resources to make your stay with us truly enjoyable, memorable and comfortable.
Do you know what we consider our main resource and asset?
It's the Novostar Hotels team! The hotel staff acquire and develop their professional skills every day to meet the highest standards of the hospitality industry. They smile no matter how tired they are, they don't know what the word 'impossible' means because even the most challenging tasks are never impossible for people who really love their work.
Congratulations to all our employees and guests on the anniversary! Don't forget that like 10 years ago, our dear friends are always welcome at Novostar Hotels!