Weather in Tunisia in January
What is the weather like in Tunisia in January? This is the first question of those who are considering spending winter holidays in North Africa. Will it be possible to sunbathe and enjoy African warmth?
Climate characteristics
It is one of the coldest months of the year with the most rainfall and fierce winds – this is what local people say about the weather in Tunisia in January. In fact, it is not so bad: the average daytime temperature ranges between 14°C and 20°C, while at nighttime – between 10°C and 20°C. As for the residents of non-southern regions of Russia, they consider such weather to be quite warm in winter. An important feature of this period is the increased humidity, reaching 70%, which, in the absence of the sun, strengthens the feeling of cold, so in the evening it suddenly gets cold and dank.
Is it possible to sunbathe?
Of course, we are not talking about a beach holiday and the heat, but it is possible to sunbathe for a few hours in a place sheltered from the wind, not on the beach. It often cloudy at this time of the year, but according to the statistics, there is a 61% chance of perfect sunny days, so it is quite possible to come back home from winter holidays with a beautiful tan.
What about beach holidays?
You can endlessly admire the winter sea, enjoying a riot of color and nature's fury, but only the brave will decide to swim: the average water temperature is 16°C and there are often huge waves. When choosing a hotel, you should pay attention to the presence of an indoor not-fresh-water heated pool, not to deny yourself the pleasure of swimming in warm sea water.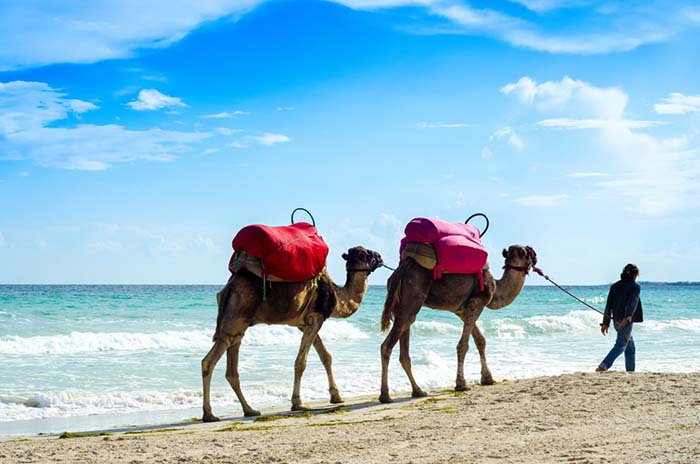 How often does it rain?
The average precipitation is 15-30 mm, in northern cities it rains more often that in southern ones. On average, there are 4-10 rainy days per month, pouring rain is rare. In the northern regions and in the Atlas Mountains, it can be cold frosty and snow may fall. Don't forget to take an umbrella or a raincoat.
What clothes should you pack?
The weather in Tunisia in December and January is characterized by contrasting temperatures in the day- and nighttime, so it's worth packing two types of clothes, which are summer and autumn ones. Due to the high humidity, a drop of 5°C is very noticeable. During the day, there are also significant changes: warm sunny weather can change to cloudy windy and dank one in a minute. Therefore, a lightweight but warm jacket that can be easily put in a bag or backpack when you go for a walk is a must. Bathing suits and accessories will be necessary to swim in a pool or visit a thalasso center.
Which city to go to?
It is warmer, sunnier and drier in the southern resorts of the country. A major advantage of going on holiday to Zarzis or on the island of Djerba is the proximity of these resorts to the main sightseeing routes which include the Sahara desert, the towns of Tozeur and Douz, a large salt lake Chott el Djerid, troglodyte caves and other landmarks of the country. It is rather hot here in summer but winter weather is perfect for unhurried and comfortable exploration of numerous historical sites. The air temperature in the northern regions is 2-3 degrees lower, it rains more often there, for example, there are up to 4 rainy days per month in the Sahara region, while in the capital they are up to 10. In the off-season there is no hustle and bustle in most small resort-towns but Sousse, Hammamet and Tunis (the capital) remain lively.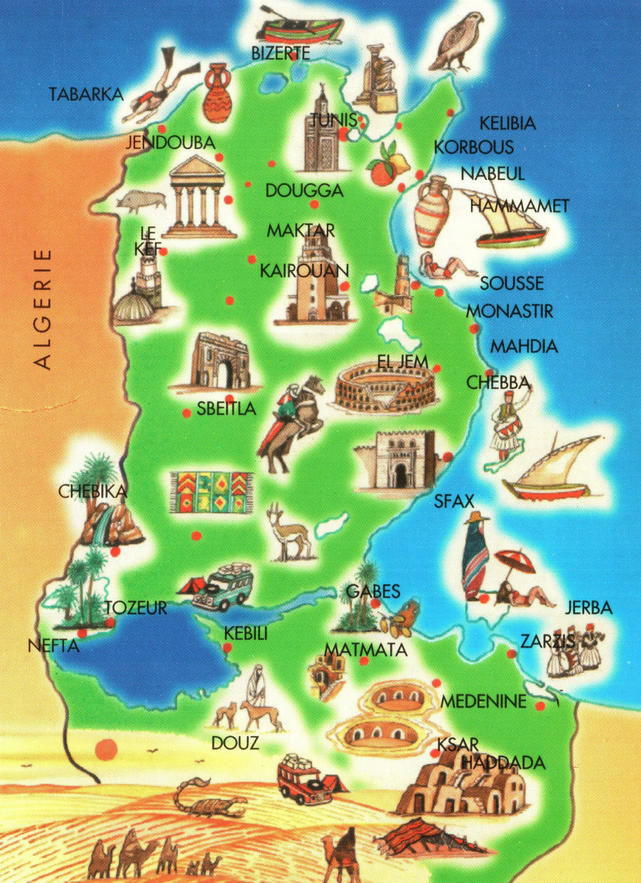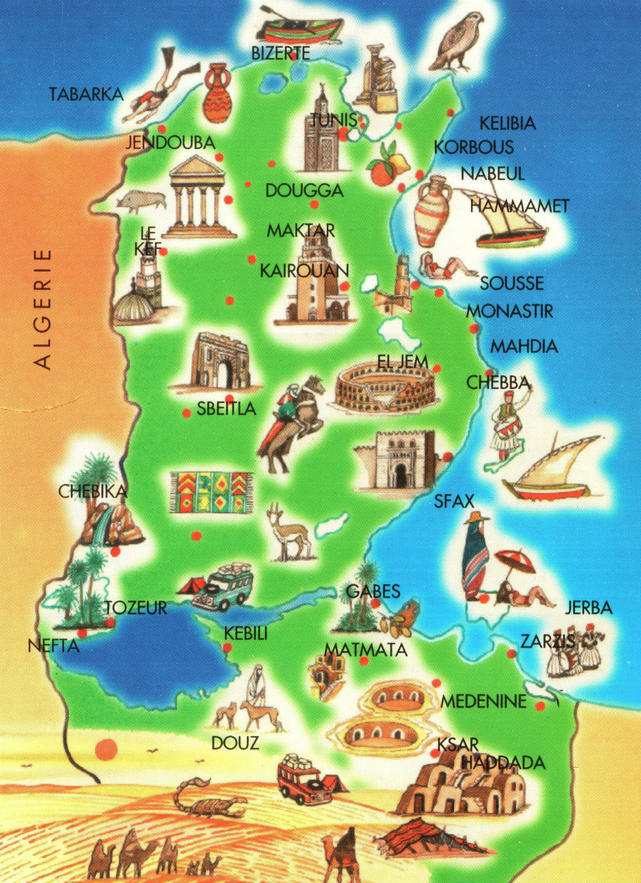 What are the things to do?
The New Year is celebrated in hotels. As a rule, the main program is a gala dinner with guest artists.
Market stores are full of seasonal citrus fruits, so it is a great chance to stock up on vitamins at an attractive price.
On Christmas Eve, you can attend a service in Church of the Resurrection in Tunis.
Visiting Tunisia in January is an opportunity to avoid crowds of tourists and enjoy personalized service. The main leisure activities are strolls along the beach, going on excursions while the sun is not burning and there is no fuss, or a calm hotel holiday with thalassotherapy procedures. The weather in Tunisia in January is changeable but you will definitely enjoy warm and sunny days.